John Singer Sargent's Madame X - as she might have originally been painted
(Frontpage) (What's New Page) (Refer This Site )


Madame X
As she might have orriginally been painted
(Altered by Mike Pieczonka)
Jpg: Mike Pieczonka
When Sargent finished his Salon picture -- it was painted, varnished and ready for exhibition with the right dress strap dangling off her shoulder. Mike Pieczonka has altered the image of the painting (as we have it today) to give us an idea of how it might have originally looked based on the photograph of the painting at the time.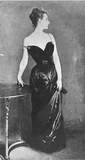 Photo of Madame X as if hung at the Salon

Madame X
Note
Special thanks to Mike Pieczonka of Toronto, Ont. Ca., a Friend of the JSS Gallery, for sending along this image.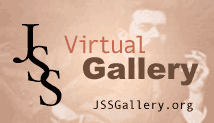 By: Natasha Wallace
Copyright 1998-2005 all rights reserved
Created 10/4/2005