Miss Eleanor Brooks
(Mrs. Richard Middlecott Saltonstall)
John Singer Sargent -- American painter
1890
Private collection
Oil on canvas
154.9 x 78.7 cm
Signed upper right 'John Singer Sargent/1890'
Inscribed on reverse 'Miss Eleanor Brooks/painted by John Singer Sargent/August 1890'
Jpg: TEFAF.com, the Maastricht arts fair
Miss Eleanor Brooks was painted in 1890
in West Medford, Massachusetts. At this time Sargent also painted a bust length likeness of Eleanor's father Peter Chardon Brooks, and a large seated portrait of Eleanor's mother Sarah (both in private collections). Sargent may have known members of the Brooks family prior to receiving these commissions. According to Charles Merrill Mount, Peter Chardon Brooks was 'the son of the man of the same name who had done business with [the Sargent] family's shipping firm [years earlier]' (John Singer Sargent London, Cresset Press, 1957, pp. 153-154).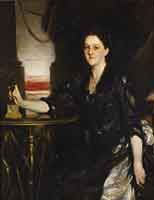 Mrs. Peter Chardon Brooks
1890
(mother to Miss Eleanor Brooks)

Eleanor, who was twenty-three when Sargent painted her, married Richard Middlecott Saltonstall in 1891. Their son Leverett became a United States Senator. Eleanor was a founder of the Community Fund (a forerunner of the United Fund), and held various offices in the Red Cross. In 1936, she was appointed a member of the national women's committee for Mobilization of Human Needs, and in 1947 received the Charles M. Rogerson Award for her service from the Greater Boston Community Fund.

Eleanor trained and rode horses in shows until well into her sixties, and died in 1961 at the age of ninety-four ('Mrs. Saltonstall, Mother of Senator,' The New York Times, October 23, 1961, p. 29).


Notes:

Provenance
Mr. and Mrs. Peter Chardon Brooks, West Medford, Massachusetts Eleanor Brooks (Mrs. Richard Middlecott Saltonstall), their daughter, 1925 to 1961 Descended in the family, 1961 to 1999

Literature
'The Sargent Portrait Show', New York Sun, February 21, 1899, p. 6;

William Howe Downes, John S. Sargent, His Life and Work, Boston, Little, Brown and Company, 1925, p.160;

The Hon. Evan Charteris, John Sargent, New York, Charles Scribner's Sons, 1927, pp. 109, 262;

David McKibben, Sargent's Boston, with an Essay Biographical Summary a complete Check List of Sargent's Portraits, Boston, Museum of Fine Arts, 1956, p. 86;

Charles Merrill Mount, John Singer Sargent, London, Cresset Press, 1957, pp. 154, 341, no. 903

Exhibitions
Boston, Copley Hall, Loan Exhibition of Portraits of Women for the Benefit of the Boston Children's Aid Society, March 1895;

Boston, Copley Hall, Paintings and Sketches by John Singer Sargent, 1899 (titled Portrait, no. 20 or 25);

Boston, Museum of Fine Arts, Memorial Exhibition of the Works of the Late John Singer Sargent, 1925, no. 47;

Boston, Museum of Fine Arts, The Bostonians: Painters of an Elegant Age, 1870-1930, 1987, and toured: The Denver Art Museum, Denver, Colorado, October 25, 1986-January 18, 1987;

Terra Museum of American Art, Chicago, March 13-May 10, 1987, p. 94 (reproduced); Summer loans to Museum of Fine Arts, Boston Sargent Estate Sale, Christie's London, July lot 228, 1925 bt.