Portrait of John W. Cummings

John Singer Sargent -- American painter

1917

Museum of Fine Arts, Boston

Charcoal on paper

64.8 x 47 cm (25 1/2 x 18 1/2 in.)

Gift of John W. Cummings, grandson of the subject 2004.145

Jpg: MFA


John William Cummings, 1855-1929

A very prominent attorney in Fall River Massachusetts (between Providence RI and New Bedford MA) He would, I think, become a judge and served as Mayor of Fall River in 1885, 1887 and 1888.

He was born, we think, in Stockport, England. His parents were from Strokestown, co. Roscommon, Ireland before moving to Providence. (rootsweb.com)

His brother, James T. Cummings, a defense attorney (the two brothers probably practiced together) had the distinction of representing Lizzie Borden (that fun loving ax wielding maniac) at her Inquest and Preliminary hearing. – they must have been good – she got off. (lizzieandrewborden.com)

In 1899 Fall River opened a new Library in the Beaux-Arts Classical style and JW donated artwork to the library – the Library remains today.

JW: son of John and Mary (Rogers) Cummings, and husband of Mary Catherine Cecelia Brennan. (rootsweb.com)

By the time Sargent sketches him he would be 62 years old.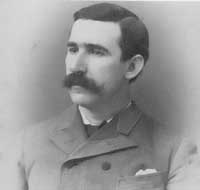 Photo of John William Cummings
1880's - early 1890's
(age: late 20's early 30's)



Notes: