Anthony Asquith

John Singer Sargent -- American painter

c. 1908

Private collection

Charcoal

Size?

Jpg: Friend of the JSS Gallery


Anthony Asquith "Puffin" (1902-1968), youngest son of Herbert Henry and Margot Asquith, Count and Countess of Oxford.

His father was the British Prime Minister and he grew up in 10 Downing Street from when he was six years old to fifteen (1908-1916).

To the dismay of his political father, however, he didn't take after his half siblings who where into politics or the law, but more after his mother who was more of a free spirit and artistically minded.

He did go to Oxford, like his father had, and studied the classics. After graduating he traveled to Hollywood at a time when things were really taking off and stayed with Mary Pickford and Douglas Fairbanks, Sr. -- How about having Charlie Chaplin as a neighbor, nice, huh? When he returned to England the only job he could get was at the lowest level (tea boy) but with his family connections he moved up pretty quickly and by the age of twenty-five co-directed his first movie "Shooting Stars" (1928) with A.V. Bramble which today apparently is widely considered to a small classic and Britain's greatest silent film -- at the time his salary was to £2 a week. His father thought the whole thing was a joke and was waiting for him to grow up.

Puffin continued on, regardless; but the film industry was going through some substantial growing pains into talkies and he struggled with the critics (artistically) who called his films too arty.

It seems his second break came in 1938 when he was allowed to co-direct the movie "Pygmalion" because of his close relations with George Bernard Shaw who wrote the play (1914). The movie was a hit staring Leslie Howard (this success, however, would later totally be eclipse by another adaptation of Shaw's work under the musical named "My Fair Lady" (1964) with Rex Harrison and Audrey Hepburn.)

But in 1938, Puffin was back in the drivers seat and he would never look back, Over the course of the next quarter century he would crank out a number of admirable films and would work with some of the greatest actors of the time: Laurence Olivier, Edith Evans, Rex Harrison, Elizabeth Taylor, Richard Burton, Shirley MacLaine, Ingrid Bergman, Sophia Loren, Peter Sellers, Leslie Caron, David Niven, Dirk Bogarde.

He wasn't considered a Great Director, and after the time of his death a lot of his work was looked down on as not being cutting edge, but he was a Good Director and worked in what was England's equivalent of the Hollywood studio system – cranking them out.

I personally haven't seen a lot of his work – I intend to, but from what I can gather some of his more notable films also included: "Quiet Wedding" (1940); "The Importance of Being Earnest" (1952) a theatrical version of Oscar Wilde's play; "The Winslow Boy" (1948); "Carrington VC" (1954); "The Millionairess" (1960);and "The Way To The Stars" (1945) – a movie I have seen but it was so long ago I don't really remember much other than it was a WWII movie.

Apparently he had a kind heart and was generous to a fault and he struggled with alcoholism and died from complications from that – I think.

I wonder if his father ever came around to appreciating his choice of careers?
(britmovie.co.uk)
(britishpictures.com)
(screenonline.org.uk)


<>

Directed films




Filmography (features only)




| | |
| --- | --- |
| 1927 | Shooting Stars (co-directed) |
| 1928 | Underground |
| 1930 | A Cottage on Dartmoor |
| 1931 | Tell England (co-directed) |
| 1932 | Dance Pretty Lady |
| 1933 | The Lucky Number |
| 1934 | Unfinished Symphony |
| 1935 | Moscow Nights |
| 1935 | Brown on Resolution (co-directed) |
| 1938 | Pygmalion (co-directed) |
| 1939 | French Without Tears |
| 1940 | Freedom Radio |
| 1940 | Channel Incident |
| 1940 | Quiet Wedding |
| 1941 | Cottage to Let |
| 1942 | Uncensored |
| 1943 | The Demi-Paradise |
| 1943 | We Dive at Dawn |
| 1944 | Fanny by Gaslight |
| 1945 | The Way to the Stars |
| 1946 | While the Sun Shines |
| 1948 | The Winslow Boy |
| 1950 | The Woman in Question |
| 1951 | The Browning Version |
| 1952 | The Importance of Being Earnest |
| 1953 | The Net |
| 1953 | The Final Test |
| 1954 | The Young Lovers |
| 1954 | Carrington VC |
| 1955 | On Such a Night |
| 1958 | Orders to Kill |
| 1959 | Libel |
| 1959 | The Doctor's Dilemma |
| 1960 | The Millionairess |
| 1961 | Two Living, One Dead |
| 1962 | Guns of Darkness |
| 1963 | The VIPs |
| 1964 | The Yellow Rolls-Royce |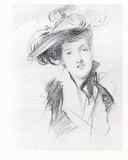 Emma (Margot), Countess of Oxford and Asquith
1897
Chalk
(mother to Anthony Asquith)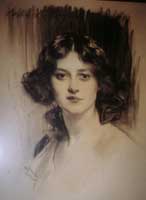 Elizabeth Asquith
1914
(Older sister to Anthony Asquith)


Notes:
Special thanks to Matt Davies, of Kansas City, a friend of the JSS Gallery, for sending me a note regarding this image.

From: Matt Davies
<matt davies @ jssgallery.org>
Date: Fri, 12 Jul 2002

The picture is not dated in the book, but I am guessing it would be c. 1908 (?) as maybe he is about six in the drawing?

From John Sargent, 1927, by the Hon. Evan Charteris (published by Charles Scribner's Sons). (Charteris was one of the Souls,
and knew Sargent well.)


Exhibitions
1916, Royal Society of Portrait Painters, hosted at the Grafton Galleries, London. Opened June, 1916.
See the year in review 1908