John Singer Sargent's Rt. Hon. Ethel Barrymore
(Frontpage) (What's New) (Thumbnail Index) (Refer This Site)


Ethel Barrymore
John Singer Sargent -- American painter
1903


Adelson Galleries?



Pencil on paper
37.15 x 25.4 cm (14 5/8 x 10 in)
Signed:lower right:
to Mrs. Sears John S Sargent
Jpg: adelsongalleries.com

[1]







Sargent painted a number of different Sears women, so I'm not sure which one the dedication would be to. See also: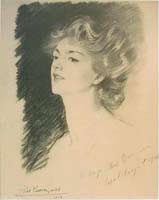 Ethel Barrymore
1903
Charcoal drawing

Note:
Special thanks to Francesca Miller, of California, a friend of the JSS Gallery, for sending a link to the image.


1) The image was small and poor. I've enlarged and tried to sharpen to minimal effect.

See the year in review 1903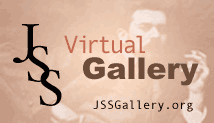 By: Natasha Wallace
Copyright 1998-2004 all rights reserved
Created 12/24/2004