Guy Lowell
1917
John Singer Sargent -- American painter
Museum of Fine Arts, Boston
Charcoal on paper
62.5 x 46.4 cm (24 5/8 x 18 1/4 in.)
Museum of Fine Arts, Boston:
Gift of Mrs. Guy Lowell 27.217
Jpg: MFA
Guy Lowell (1870-1927) architect and landscape designer. In the mid 1890's he was chosen to design the new Museum of Fine Arts, Boston on Huntington Ave which would be his greatest building. He also designed Lowell Lecture Hall at Harvard, buildings at Andover Academy, Simmons College and Brown University.
He edited several books on gardening, including American Gardens (1902) More Small Italian Villas and Farmhouses (1920).
He attended MIT and the Ecole des Beaux Arts in Paris, finally graduating from MIT in 1894. Connected socially, he got the commission to for the MFA.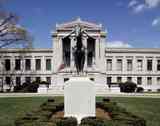 Museum of Fine Arts, Boston
Editor's note -- I had a hard time finding information on Guy Lowell. The information I did find seemed a little confusing. I might be confusing two separate Guy Lowells -- one an architect, one a landscape designer.
Notes:

Provenance:
Lent by Mrs. Guy Lowell September 29, 1925. Returned December 31, 1925. Gift to MFA May 5, 1927