Hazel, Lady Lavery
1923
National Gallery of Ireland
Charcoal
Size?
inscribed and signed "To Hazel Lavery l'echange amical / /John S. Sargent 1923" [1]
Jpg: Friend of the JSS Gallery
Hazel, Lady Lavery (1887-1935) was the wife of the painter Sir John Lavery. The drawing took place just two years after Hazel's instrumental hosting (in her husband's studio) of the negotiations that finally synched the Anglo-Irish Treaty.
Larvey, himself, would paint Hazel that same year.
Sir John Lavery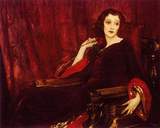 The Red Rose
1923

Notes:
Special thanks to Matt Davies, of Kansas City, a friend of the JSS Gallery, for sending me notes regarding this image.


1) l'echange amical -- French for "a friendly exchange." The inscriptions seems to imply that John traded drawings with the Lavery's. That it was inscribed in French might indicate that he was with them somewhere in France at the time.


Forum:

Subject: Did Sir John Lavery shared a studio with JSS -- did John paint his wife?
From: Terry Browne
vi co@indigo.ie
2/24/2000
Natasha
First your site is remarkable!
I am working on Sir John Lavery and his second wife Lady, Hazel Lavery (1880-1935). John Lavery took the lease on 5 Cromwell Place in London with John Singer Sargent in about 1896. What a house and Studio! I was there last week (and any chance I get).
It is said that the Anglo-Irish treaty of 1921 was effectively negotiated and signed in the studio; and what a legacy of portraiture.
I would be greatly interested to know if you have any information on their short period working together in the same studio and also if there are any Sargent portraits of the magnificent Hazel Lavery.
When I get around to a Lavery site, I wonder could I contact you for some basic guidance. Really and truly a great presentation. Bravo!
Terry Browne
Dublin
Ireland

From: Natasha
Date: 3/12/2000
I've checked with more than a half dozen books and I'm not finding anything in regards to JSS sharing a studio with Lavery. In fact Charteris' biography mentions Lavery only twice -- pp. 90, 91. The first is in regards to the New English Art Club (NEAC) which John helped start along with 50 other young artists, among them was John Lavery. The second is about Lavery joining the Scottish "Glasgow School" in 1884 which was a movement similar to the NEAC.
Olsons biography mentions Lavery twice as well pp. 193, and 270. The first is in regards to equals of JSS as a portraitist. Out of his contemporaries Olson says that Lavery wasn't quite on JSS' level -- at least in popularity. The second reference was about the sale of JSS' work after his death. Christies held the auction of some 237 of his oils and watercolors along with some of JSS' own personal collection of paintings that he had himself collected which included:
Abbey, Brabazon, de Glehn, Helleu, John Parsons, Rodin, Tiepolo, Besnard, Boldini, Carolus, Corot, MacEvoy, Lavery, Mancini, Monet, Pryde, Steer, and his much admired Annie Swynnertons all moved over to King Street turning his private collection into an open exhibition. The viewing-days were a crowded social occasion.
There was only two studios that I know of. One on Tite Street where he lived and another on Fulham Road. I can't find any reference to a studio ever used on Cromwell Place. It might be possible that JSS used Lavery's studio for one particular portrait but I'm not finding anything that links the two of them together for any project or period of time other than just socially knowing each other since they both were in London.

Nor am I finding any referance to a portrait done of Hazel Lavery. [This was prior to Matt Davies sending me the "mug".]

The next time you're at 5 Cromwell Place in London why don't you see if they don't have something that can document JSS and Lavery together and I would love to hear from you if you find something.

Good luck,

Natasha


From: Terry Browne
3/16/2000

Thank you very much for the info. on the Lavery connection.

I did find to-day that JSS in 1923 did a charchoal sketch of Hazel entitled 'Hazel, Lady Lavery' [the "mug" above]. It is part of the collection of National Gallery of Ireland; inscribed and signed "To Hazel Lavery l'echange amical / /John S. Sargent 1923". The Sargent sketch done when Hazel was 43 is said to be a more realistic representation than her husband's more iconic interpretations [The Red Rose]. The sketch was a gift from Sargent to Hazel, unfortunately we do not know what the reciprocal gift was in this "friendly exchange".

*source biography: Hazel - A Life of Lady Lavery by Sinead McCoole, Lilliput Press 1996.

Cromwell Place Studio

No new information yet but I will advise shortly. I still think they shared for a while. There is a reference in Hazel's biography (above) that "JSS found the lease too expensive" (p.41) ref: Morris MS, p.54.

I will make enquiries with biographer and advise further.

Subject: Did Lavery and Sargent Share models
From: Adrian Lissamore
<LIS SAMO RE3@AOL.COM>
Date: Fri, 26 Sep 2003

Did Sir John Lavery and JSS share models?
Particularly interested in whether JSS ever painted Mary Auras,Nora Johnson, or
Mary Morgan.
I know he painted Hazel on at least one occasion.
Regards,
Adrian