John Singer Sargent's Portrait drawing ("Mug") of Mrs. Redmond McGrath
(Frontpage) (What's New) (Thumbnails Index) (Refer This Site)


Portrait drawing ("Mug") of Mrs. Redmond McGrath
John Singer Sargent -- American painter
1919
Private collection
Charcoal on white paper, "Mug"
60 x 38 cm (23 1/2 x 15 in.)
Signed and dated: "John S. Sarsgent 1919"
Jpg: Wendy & Gordon Hawksley
Notes:
Gratitude to Wendy & Gordon Hawksley of Sheffield, England for sending me the image and information.
From: Wendy & Gordon Hawksley
<g w @ whawksley. fsnet. co. uk>
Date: Tue, 16 Apr 2002
[Shown at the] "'Society Portraits 1850 - 1939' - this was an exhibition held at the Colnaghi Gallery and the Clarendon Gallery in London from 30 October to 14 December 1985.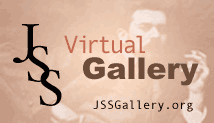 By: Natasha Wallace
Copyright 1998-2002 all rights reversed
Created 4/18/2000