Tamara Karsavina in the Title Role of 'Thamar'
c. 1911-1912
John Singer Sargent -- American painter
Fogg Art Museum,
Cambridge, Massachusetts
Charcoal heightened with white chalk on white paper
59.7 x 45.2 cm
Gift of Grenville L. Winthrop
Jpg: Sargent at Harvard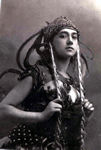 Tamara Platonovna Karsavina (1885-1978)
one of the great Russian ballet dancers. She first made her mark with the internationally acclaimed Ballets Russes of Serge Diaghilev and was a true prima ballerina -- intelligent and gifted.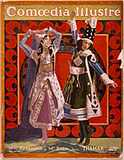 By 1912 (possibly 1911 as well based on Harvard dating) at the age of 27, she was performing in Paris in the lead role in "Thamar". The ballet was set in the exotic Caucasian land of Georgia. The Queen Thamar would lure an innocent man to her castle, dance with her victim before finally stabbing him to death. [1]
Tamara's costume, along with the set, were both designed by the then new-international-sensation Léon Bakst, whom had himself, only a couple or years prior (1910), burst onto the Paris theater scene with the production of the ballet Schéhérazade. The staging was so brilliant in its color and design that these productions (Thamar followed in this same theme) were declared "visual masterpieces" by the public and critics.
The lure, for Sargent, to capture the leading dancer wearing her costume must have been tremendous. As he had done with the Javanese Dancers, Ellen Terry as Lady Macbeth, and others, these thematic works combined John's love of the exotic, beautiful costumes, and the art of portraiture.

Karsavina graduated from St. Petersburg's Imperial Ballet School in 1902 and immediately entered the Maryinsky Ballet as a soloist. From 1909 (at the age of 24) to 1918 she was given starring roles with the rank of Ballerina. She was a ballerina with Diaghilev's Ballets Russes from its beginnings in 1909 and so divided her time between the Maryinsky Theatre and the Diaghilev Ballets Russes.
She stayed in Russia during the Russian Revolution (1917) but by 1919, when she married her husband Henry J. Bruce (a British diplomat) they fled breifly to London, only to return later that year.
Tamara Karsavina was later associated for many years with Great Britains' Royal Academy of Dancing, from the time it received its charter in 1936.

Savely Sorin
Russan painter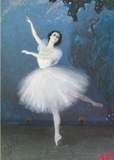 Tamara Karsavina - "Les sylphides"
1910
Notes:
David McKibbin lists 3 drawings of Madame Karsavina by Sargent

A bill of sale in curatorial file. Drawing was sold to Grenville Winthrop for $1500. Scott and Fowles number from back of frame: 5981. Scott and Fowles bill lists title as: "Portrait of 'Karsavina' the Russian Dancer."

Provenance:
Lady Ripon

Scott and Fowles, Dealer, 680 Fifth Avenue, New York, NY
Disposed of: 1930, Sold to Grenville Winthrop

Grenville L. Winthrop, Owner, New York
Acquired: 1930, Jan. 9, Purchased from Scott and Fowles
Disposed of: 1942, Gift to Fogg Art Museum

Bibliography:
Birnbaum, Martin, John Singer Sargent, William E. Rudge's Sons, NY, 1941, p. 52, repr.

McKibbin, David, Sargent's Boston, Museum of Fine Arts, Boston, MA, 1956, p. 104, Check List of Sargent's Portraits

Fairbrother, Trevor, Sargent Portrait Drawings, Dover Publications, Inc., NY, 1983, cat. 20

Jirat-Wasiutynski, Vojtech and Thea, The Uses of Charcoal in Drawings, Arts Magazine, Oct 1980, p. 131, fig. 8