Three Sisters: Mabell, Alice and Esther
1923
Private collection
Charcoal
Size?
Jpg: Friend of the JSS Gallery
From: Matt Davies
<Matt Davies@jssgallery.org>
Date: Sun, 23 Jun 2002
Here is another grouping of several family members. These are three sisters: the first being Mabell, Countess of Airlie (1923), the second being Alice, Marchioness of Salisbury, and the third being Esther, Viscountess Hambleden.
All three of these are from Thatched With Gold: The Memoirs of Mabell, Countess of Airlie. Edited and Arranged by Jennifer Ellis. London: Hutchinson & Co., 1962.
I am also including here a copy of de Laszlo's portrait of the Countess of Airlie, probably from around the same time.
Philip Alexius de Laszlo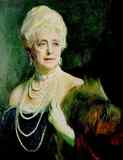 Countess of Airlie
1923?
Notes:
Special thanks to Matt Davies, of Kansas City, a friend of the JSS Gallery, for sending me notes regarding this image.