John Singer Sargent's Neapolitan Children Bathing (Frontpage) (Thumbnail Index) (What's New) (Refer This Site)




Neapolitan Children Bathing
(A.K.A. Innocence Abroad)
John Singer Sargent -- American painter
1879
Stirling and Francine Clark Art Institute, Williamstown MA
Oil on Canvas
267 x 413 cm (10 1/2 x 16 1/4 in.)
Jpg: classicartrepro.com


This painting was inspired by his trip to Naples in 1878 which he took with his family.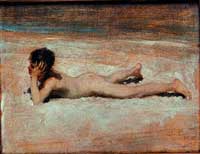 A Nude Boy on a Beach
1878


Notes:
Special thanks to Stephanie, a friend of the JSS Gallery, for sending me a tip about these images.


See the year in review 1879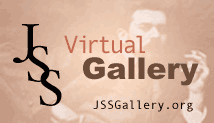 By: Natasha Wallace
Copyright 1998-2005 all rights reserved
Created 11/7/2005