John Singer Sargent's Nude Study of Thomas E. McKeller
(Frontpage) (What's New) (Thumbnails) (Refer This Site)


Nude Study of Thomas E. McKeller
John Singer Sargent -- American painter
1917-20?
Museum of Fine Arts, Boston
Oil on canvas
125.73 x 84.45 cm (49 1/2 x 33 1/4 in.)
Henry H. and Zoe Oliver Sherman Fund
1986.60
Jpg: MFA / Carol Gerten's Fine Art


(See interactive zoom at the MFA)


Notes:

Provenance:
The artist; to estate of the artist; to Richard W. Hale, Boston, by 1929; on loan to MFA 1929-1932; to William James, by 1932; to David McKibben, Boston; to Donald Kelly, Boston, by 1978; with Alfred J. Walker Fine Art, Boston, by 1986; to MFA, 1986, purchase.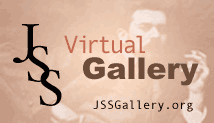 By: Natasha Wallace
Copyright 1998-2005 all rights reserved
Created 11/14/2001