Portrait of Sir George Lewis

John Singer Sargent -- American painter

1896

Private collection

Oil

31.5 x 23.5 in.

Jpg: Askart.com


Every generation has one: cocky, powerful, brutally effective. They appear on everyone's "A" list for solicitors. Sir George Lewis was at the top of everyone's "dream team". He was the most preeminent solicitor in London and was Sargent's solicitor.

George's second wife was Lady Lewis (nee Elizabeth Eberstadt) whom John painted in 1892.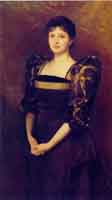 Lady Lewis
(nee Elizabeth Eberstadt)
1892

Edward Coley Burne-Jones painted Lewis's daughter's:
Edward Coley Burne-Jones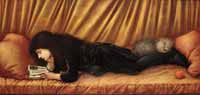 Portrait of Katie Lewis
1886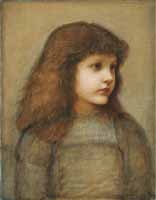 Portrait of Gertie Lewis, half-length
c. 1884

Lewis served as Secretary for War in the 1860's. I'm finding references to the Royal family and many prominent people in the arts such as Sir Henry Irving who ran the Royal Lyceum Theatre.

Arthur C. Doyle used Sir George Lewis, in a cameo role for his story "The Case-Book of Sherlock Holmes."

Note:

Offered but not sold Sothebys; 5/22/1996; Lot 29; estimated $30,000-$40,000

Dated by Charles Merrill Mount

Forum:

From: Wendy & Gordon Hawksley
gw @ whawksley. fsnet.co. uk
Date: Sat, 22 Feb 2003

Catalogue of the papers of Elizabeth, Lady Lewis (1844-1931) and the Lewis
family, 1849-1982 @ University of Oxford, Bodleian Library

FUCHS (Emile) 1866-1929
Portrait by J.S. Sargent, n.d.
Dep. c. 846, fol. 129

RUMFORD (R. Kennerley) 1870-1957
Portrait by J.S. Sargent, n.d.
Dep. c. 846, fol. 25

VICTORIA Queen of Great Britain and Ireland, 1819-1901
Caricature ["mug"?] by J.S. Sargent, n.d.
Dep. c. 846, fol. 59

SARGENT (John Singer) 1856-1925
Drawings, 1899, n.d., and cutting sent to Katherine Lewis by
Dep. c. 846, fols. 20, 25, 53(?), 59, 110, 129
Letter to Sir George Lewis, 1st Bart., with receipt for portrait, 1906
Dep. c. 839, fols. 61-2
Letters to Elizabeth, Lady Lewis, 1899-1920, n.d.
Dep. c. 836, fols. 122-229
Letters to Katherine Lewis, 1897?-1915, n.d.
Dep. c. 843, fols. 216-42
Letters to Sir George Lewis, 2nd Bart., 1896-1914, n.d.
Dep. c. 850, fols. 122-31

University of Oxford, Bodleian Library
T.D. Rogers
©1996
Department of Special Collections and Western Manuscripts
Bodleian Library
Broad Street
Oxford
OX1 3BG
United Kingdom
Tel: +44 (0) 1865 277152
Fax: +44 (0) 1865 277187
E-mail: western. manuscripts @ bodley.ox.ac.uk
http://www.bodley.ox.ac.uk/dept/scwmss/