Architectural Sketch of the Reform Club, London
John Singer Sargent -- American painter
Date? (possibly 1884)
Fogg Art Museum, Boston

Graphite on off-white wove paper
17.2 x 10.9 cm., actual
Gift of Mrs. Francis Ormond, 1937.8.128
Jpg: Sargent at Harvard
The Reform Club in London was started around the time of the Reform Bill (1830- 32). The members consisted of the Liberal members of the two Houses of Parliament and some distinguished members of the public. The club, itself was (and still is) located on the Pall Mall, between the Travellers' Club and the Canton Club. The building was built from designs by Charles Barry, R. A. with the central square hallway, showing similarities to classical and Italian Renaissance design. In this case, the hallway or courtyard is covered by a glass roof to protect it from the wet English elements.
The first time Sargent visited the Reform Club was when Henry James invited him to a dinner there in 1884 to meet a number of prominent English artists.
The appeal of this sketch for him was probably of what he had seen in the south of Europe -- reminding him of any number of similar courtyards he had visited over his travels and what would show up in his art through Italy and Spain such as Hospital at Granada.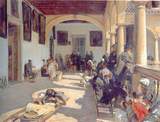 Hospital at Granada
Or on a more modest scale: Moorish Courtyard

Moorish Courtyard
and then, of course, Study of Architecture Florence being only some examples.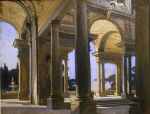 Study of Architecture Florence

In Sargent's sketch, we apparently are looking across the open central hallway on the second level with interest to the Corinthian columns and the arched door openings.
Harvard doesn't date the work and the only reference I could find of Sargent going there was at that dinner given by Henry James in 1884. I'm sure Sargent went there later when he lived in London, but for the sake of narrative I'm putting the sketch under 1884.
Notes: