Woman Sketch
John Singer Sargent -- American painter
c. 1889 ?
Fogg Art Museum
Graphite on off-white wove paper bound in a beige canvas sketchbook
15.2 x 24.2 cm
Gift of Mrs. Francis Ormond
Accession Number: 1937.7.26
Jpg: Sargent at Harvard
This may be Sargent's sister Violet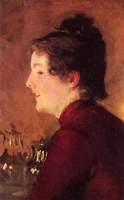 A Portrait of Violet
1889

From: Harvard
Contained in a Sketchbook with 16 numbered pages.
The sketchbook contains portraits of several women, including: Vernon Lee (Violet Paget) and Alice Guerin (Madame Paul Helleu). The sketchbook also contains studies of animals: gorillas, cats, and birds.
The Sketchbook measures 152 x 242 mm., individual sheets are approx. 150 x 238 mm.
The pages are numbered in brown ink in the top right hand corner. Many pages have been removed from the sketchbook and the page numbering apparently occurred after their removal.
(Sargent at Harvard)


Notes:
Dated by Natasha's guess
Bibliography
Goley, Mary Ann, The Paul Magriel Collection: American Drawings 1800-1965, Board of Governors of the Federal Reserve System, Washington, DC, 1981, p. 14, note 5
Provenance
Sargent, John Singer (Creator). Created 1892 - 1898, To his sisters, Emily Sargent and Mrs. Francis Ormond, at his death 1925.
Sargent, Emily, and Mrs. Francis Ormond (Owner). From their brother, the artist, at his death 1925, Gift of Mrs. Ormond to the Fogg Art Museum 1937.