Spanish Dance
1879-80
The Hispanic Society of America, NY
oil on canvas
89.5 x 84.5 cm (35 1/4 x 33 1/4)
Jpg: local source
There is a small study called Spanish Dance Study roughly 15 x 12 in. done by Sargent which hangs at the Nelson-Atkins Museum of Art in Kansas City. The composition is exactly that of this painting but much smaller and the tone is so dark you can hardly see the figures.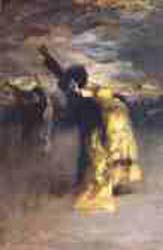 A second study at the Nelson-Atkins is called Study for Spanish Dance about twice as large as the first study. The figures are much closer and Sargent seems interested in the way the dancers are positioned.
In some the painting Spanish Dance evokes his Capri trip of 1978 when he painted Rosina Ferraro on the rooftop of his hotel. The dancers are nearly lost in the moonless sky with the feild of stars and fireworks above. The painting was clearly

inspired by James McNeill Whistler's Nocturne in Black and Gold: The Falling Rocket.


Notes: