John Singer Sargent's Spanish Fountain (Frontpage) (Thumbnail Index) (What's New)


Spanish Fountain
John Singer Sargent -- American painter
1912
Metropolitan Museum of Art, New York
Watercolor and graphite on white wove paper
53.3 x 34.9 cm (21 x 13 3/4 in.)
Purchased, Jospeph Pulitzer Bequest, 1915
15.142.6
Jpg: the Met

(Click on image to Step Closer)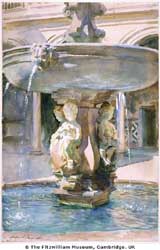 Spanish Fountain
(Fitzwilliam Museum)
1912

Note:
I'm a bit confused about this painting. I found another image from Jim's Fine Art called Spanish Fountain (same image as this and they had it listed at the Brooklyn Museum:
Spanish Fountain
1902
Brooklyn Museum, New York
Watercolor
34.4 x 48.6 cm (13 9/16 x 19 1/8 in.)
Both images are of the same painting. This painting at the Met I KNOW is correct because I know where this image came from.

Sargent did a number of paintings of Spanish fountains. There may in fact be another watercolor at the Brooklyn Museum. I just don't know.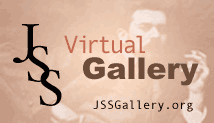 By: Natasha Wallace
Copyright 1998-2004 all rights reserved
Created 12/17/2001
Updated 9/1/2004