The Breakfast Table
John Singer Sargent -- American painter
1884
Sargent at Harvard
Oil on canvas
21 1/4 x 17 3/4 in (Sight)
Framed 27 3/4 x 24 1/4 x 2 1/4 in
Inscription: Inscription l.r.: a mon cher ami B[esnard].
Signature: l.r.: John S. Sargent
Bequest of Grenville L. Winthrop
Jpg: local
(click on the image to step closer)
From: Harvard
The figure is Sargent's younger sister, Violet (later Mrs. Francis Ormond). The picture was almost certainly painted at the home of his parents in Nice. It appears on an easel beside Sargent's Madame Gautreau in a photograph of Sargent in his studio of 1884, in the Smithsonian Institution, Washington DC.
Other alternate previous titles: "Miss Millet at Breakfast" (letter from Birnbaum) / "Miss Violet Sargent, Nice, 1884" (registrar's records). 6/94: Ivan Gaskell notes that the Jeune Fille title seems to be the most historic but it is not traceable back to Sargent's time, and it has become most well known as The Breakfast Table.
(Sargent at Harvard)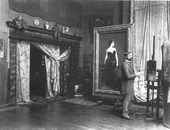 Sargent's Boulevard Berthier Studio
Notes: