Bronze study for Victory and Death
1922?
Private collection
Bronze, dark brown patina
height: 31.1cm (12 1/4 in.)
inscribed with the artist's initials J.S.S.
Jpg: Sothebys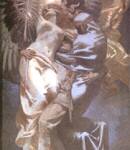 Victory and Death
The sculpture was a personification of his mural at Harvard. It may have been done as a study for the mural itself. I know he had done other prepetory sculpture studies for the Boston Public Library murals.

From: Sothebys
The present work is one of two known casts of a model for a monumental sculpture that was never completed. The other is in the collection of the Hirshorn Musuem, Washington, D.C.
Provenance:
Mr. Harold Weinstein (sold: Sotheby Parke Bernet, October 25, 1979, lot 109, illustrated)
Acquired by the present owner at the above sale
Exhibited:
Elkhart, Indiana, Midwest Museum of American Art, 1980-2001 (on loan)
Literature:
Donelson F. Hoopes, The Private World of John Singer Sargent, Washington, D.C., The Corcoran Gallery of Art, 1964, no. 165, illustrated

Notes:

Sold Sotheby's; 05 Mar 03, Session 1
10:15 am; Lot: 60 of 164 lots in auction; Sale number N07876; $42,000
Offered, not sold, Sotheby's; 11/28/2001; Lot: 89; Sale number N07737; estimated US $20,000 - US $30,000