Sargent's Gravestone
jpg: Surrey and Berkshire Newspapers
From: Jonathan Silverlight
(j silver light@merseia.fsnet.co.uk)
Date: Sunday, September 26, 2004

I thought you might like to see this picture of John Singer Sargent's tomb, which appeared in my local paper when it got "listed status" which should help get funds for maintenance.

[From left to right:] John Clarke is former chairman of Brookwood Cemetery Society, Barry Williams is on Woking Council, and Ramadan Guney owns the cemetery.

If you want a better picture or formal permission to reproduce this you could contact Surrey and Berkshire Newspapers at Reading, telephone +44 01189 183000. They don't seem to have a web page or email!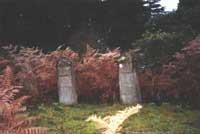 Back to Gravesite Brookwood Cemetary
Notes
Thanks to Joanathan Silverlight for letting me know about this.