Boston Public Library
Jpg: Library of Congress

The Boston Public Library (built between 1887--1895) was designed by Charles McKim of McKim, Mead and White, Architects. Intended to be clearly derived from the Italian Renaissance palazzo -- square with a central open court, it evoked the principles of the Ecole des Beaux-Arts coming from the foundation of Classical and Renaissance understanding and not necessarily a copy of any one particular structure.
Built from public money and decorated from private funds with classical themes, it was to "hold its own," according to Samuel A.B. Abbott, the president of the Library Trustees, "beside any of the great works of the great architects of the Renaissance." [1]
It would become one of the first personifications of stone and mortar (on a permanent basis and of such a scale) for the men of the City Beautiful Moment.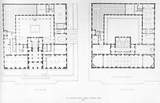 1st & 2nd floor plan of the Library
by McKim, Mead and White, architects
(Sargent's murals would be on a 3rd floor not shown)
By 1890, with the building's construction fully underway, they turned their attention to its decoration. Charles McKim would meet with the sculptor Augustus Saint-Gaudens, and painters Edwin Austin Abbey and John Singer Sargent. Afterward, McKim would quickly write to the Library trustees to get their approval.
Ultimately, there would be three major mural projects. Abbey would paint "The Quest of the Holy Grail" decorating the main Book Delivery room. Puvis de Chavannes would paint "The Muses of Inspiration Hail the Spirit," adorning the walls of the building's grand front staircase in eight stairway murals representing disciplines of poetry, philosophy, and science; and "The Barbinger of Light," decorating the second floor gallery. Sargent would paint "The History of Religion" which would decorate the the third floor hallway and what is now called "Sargent's Hall."
Although planned well before, the first installation of murals in 1895 would come on the heels of the World Columbian Exposition of Chicago of 1893; and in the public's eye, the Library stood as a continuation of the American Renaissance displayed in its ideal during the Worlds Fair.

After the '95 installation, and with the expanded project for Sargent's portion, John would lease space for a second studio on Fulham Road, in London.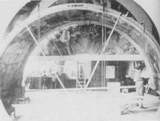 Fulham Road Studio, London

By 1919, the project was completed. After the 1916 installation, which was the largest, Sargent gave a full explanation of the murals' meaning.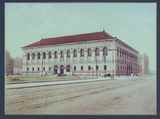 Boston Public Library
Reset Frames

Notes:

1) S.A.B. Abbott to Charles F. McKim, November 28, 1889, McKim Collection, The Library of Congress, Washington, D.C.