Basilica San Marco Interior
Everywhere there are marble columns, sculptures of sacred personages, and 4000 square meters of mosaics all unified according to a complex iconographical plan.

Come every day for the rest of your life with a small portable helicopter and you might begin to feel that you have seen everything that this cave of wonders has to offer. Failing that, make more than one visit - preferably at different times of day, to appreciate the varying effects of light on the mosaics. The lambent interior exudes splendour and mystery, even when bursting with tourists. It is in many ways an exercise in obsession: for six centuries the Venetians continued to add to its treasures, leaving not an inch uncovered.

. . . The surfaces - all the surfaces - are covered by more than 4,000 square metres of mosaics, the result of six centuries of labour. The finest pieces, dating from the twelfth and thirteenth centuries, are the work of Venetian crafts-people influenced by Byzantine art but developing their own independent style. The chapels and Baptistry were decorated in the fourteenth and fifteenth centuries; a century later, replacements of earlier mosaics were made using cartoons by such artists as Titian and Tintoretto. However, most of these later mosaics are fundamentally flawed by the attempt to achieve the three-dimensional effects of Renaissance painting.


The Pavement (San Marco)
John Singer Sargent
1898
Collection of Mr. and Mrs. Steven J. Ross
Oil on canvas
53.3 x 72.4 cm (21 x 28 1/2 in.)

. . .Notice too the magnificent marble, porphyry and glass mosaics of the floor. These date from the twelfth century, though they have been much restored. In the last century the British architect GE Street managed to block a large-scale programme of replacement by convincing the authorities that the undulating surface of the floor was a deliberate attempt to imitate the waves of the sea. He was too late to save the left aisle, which is noticeably smoother.
(timeout.com)
<>


From: Daniel Craig


d c ra ig@usi.edu
Date: >Wed, 1 Sep 2004

[Musically,] the interior of San Marco is important for the fact that it is one of the first examples where singers and instrumentalists were put in lofts. Giovanni Gabrielli developed a process of double, triple and quadruple choirs singing antiphonally and responsively from these balconies at the onset of the baroque period.



I LOVE your pics [by

Philip Greenspun]

of San Marco.

I intend to link to this site for my college music appreciation students to see the interior.



Grace and Peace,

Daniel
Assistant Professor of Music University of Southern Indiana



* * *



See other painters works of the Interior:

Walter Richard Sickert (1860-1942)
British painter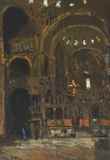 Interior of St. Mark's, Venice
1896




Notes: