La Carmencita (2)
John Singer Sargent -- American painter
1890
Private collection
Oil on canvas
54 x 35 cm (137.2 88.9 in.)
Jpg: Local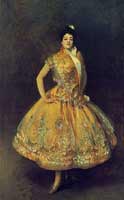 La Carmencita
1890


Notes:
See the year in review 1890
Forum:
From: Benjamin
<achi eveab ilities@sbcglobal.net>
Date: December 23, 2003
Hi Natasha,
First of all, I have been a frequent visitor of your site for some time now-if only one museum can hold all the Sargent paintings that are on your site-rather than being scattered around!
I wonder if you can help me locate a rare Sargent painting that was shown in an exhibit in Chicago around 1911 and never surfaced again until the late 80's. It is a painting 35x55 inches and resembles the "Spanish Dancer-Woman" or the dancer in "El Jaleo". It may have also been called "Carmacita Dancing" or something similar to that. A man by the name of Sal D'Amico showed it to me in the late 80's and he was in procession of it and was looking to sell his painting. I thought it was as beautiful a picture as the other "Spanish Dancer" if not better. He said it was a study of a famous painting.
Do you know anything about this painting, who may be in possession of it at the present time-a museum or name of a private owner and if so how can I obtain further info. about it. I would like to do my Doctoral thesis on it from a historical view and trace its whereabouts throughout the "missing years."
I look forward to hearing from you.
Benjamin

From: Natasha
I think this is the painting you're looking for. It was featured in "John Singer Sargent, Portraits of the 1890's", Richard Ormond and Elaine Kilmurray.
It was last sold through Adelson Galleries, New York, 1998.
It was exhibited at the Art Institute of Chicago in the winter of 1911 and marked as "Sketch of Carmencita dancing"

From: Benjamin
<ach ievea bilities@sbcglobal.net>
Date: Tue, 30 Dec 2003
Thanks so much . . . You found it!!!