Books on Sargent

New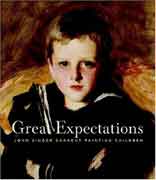 By Barbara Dayer Gallati -- in connection with the Exhibition: Great Expectations




John Singer Sargent: Portraits of the 1890s (Complete Paintings: Volume II) and John Singer Sargent The Late Portraits: Complete Paintings (Volume III)


| | |
| --- | --- |
| John Singer Sargent: Portraits of the 1890s (Complete Paintings: Volume II) | John Singer Sargent The Late Portraits: Complete Paintings (Volume III) |
Essentially what everyone was waiting for: the third portrait book is out along with the second which completes the trilogy of portrait books by Elaine Kilmurray and Richard Ormond
"Sargent and Italy"
by Bruce Robertson, editor with essays by Richard Ormond, Jane Dini, Ilene Susan Fort, Stephanie L. Herdrich, R.W.B. Lewis.

This extravagantly illustrated catalogue--published in association with a major transatlantic exhibition--evokes the romantic fascination with Italy that glimmers in the work of John Singer Sargent.

Includes 85 color and 50 black-and-white images. It adds a new dimension to our appreciation of Sargent's art and will delight anyone who loves Italy, as Sargent so passionately did.

Editorial Picks
In order to help the reader distinguish between the mountain of books available, I have written a few brief reviews on some of the major books. Since you probably don't know my tastes, I've tried to give both what I felt was good and weak about each book. Any of these in my opinion are worth your money so understand in describing the weaknesses, I'm being very picky.
There are three categories of books you can buy.

1) The Biography. The basic narrative story about his life. Like most biographies, these are mostly narrative text with a few black and white photographs.

Probably one of the best books in this category is "John Singer Sargent : His Portrait" by Stanley Olson. It's a great read and is the product of reportedly six years of research (and it shows). The downside, of course, is that it has few pictures and assumes you know his body of work -- (that you know what the paintings look like). My site helps a great deal as a companion and pretty much nullifies any negative downside. 309 pages with 45 black-and-white images which include a mix of photographs of John and some of his friends and people he painted.

2) Table-Top Survey Books -- These books are geared to the enjoyment of the images of Sargent's paintings in a pleasing large book format. Generally they give only a brief survey of some of his periods. Of these its hard to pick the best, since so many bring different things to the table. Two stand out, in my mind, as the better ones.

One of the best attempts at giving you a look at his life AND his work is "John Singer Sargent" by Carter Ratcliff. This is an outstanding book by Ratcliff and well written. No other book has been able to mesh both the story of his life with critical analysis of his work as well as Ratcliff has done. None. On the downside, although the color images are good, they aren't the best of the Table-Top Survey books probably due to the fact that it first went to print in the early '80s. (printing quality have improved a lot since then). Reprint additions seem to still have this somewhat inferior image plate setup. The selection of paintings is wonderfully picked and balanced and I highly recommend it. 256 pages. Over 300 illustrations, 113 in color, over 187 in black-and-white (many of the black-and-white deal with the murals).
A solidly scholared piece of work by Elaine Kilmurray and Richard Ormond called "Sargent". Covers the breath of his work and gives highlights of some of the significant paintings. You can't help but come away with a good understanding of Sargent after reading this book. The book is very good. I just happen to prefer the Ratcliff. In some ways this is an outline for a much larger project that both editors are working on -- an intensive and comprehensive multi-volume work on each period. Wonderfully researched and the pictures (after all that's really what most people are after) are very very good.285 pages, with 171 color images and 85 black-and-white.

3) Niche Books -- these are books that deal with a particular segment of Sargent's life or work. There are so many of these that its very difficult to break out. But here are some of the highly worthy:

At the top of the heap is Kilmurray and Ormond's first volume "John Singer Sargent : The Early Portraits (The Complete Paintings , Vol 1)" . Where their survey book falls a little short, this one comes storming through both in the writing and the images. It really doesn't get any better then this. The highest quality of everything, The book catalogs his portraits from the years 1874 to 1887. This has outstanding color plate images. There is no down side to this book . . . unless . . . . well, you just don't want it to end. 256 pages, 180 color and 80 b&w images -- all portraits.



"Strapless: The Rise of John Singer Sargent and the Fall of Madame X" by Deborah Davis

About a month ago, I guess, I was privileged enough to have received an advance copy of "Strapless" from Deborah Davis. Having a million things on my desk it took me a few days before I finally got around to picking it up, but I got to tell you, once I picked it up, I never wanted to put it down.

For over a hundred years, THE REAL STORY of Madame X has alluded every single scholar of John Singer Sargent. From out of nowhere, Deborah Davis has managed to nab the most important untold story in Sargent's life. It is a astonishing achievement for an author -- it is a phenomenal book, it's an easy read -- it's a MUST for any fan of John Singer Sargent -- Natasha Wallace

Travel Paintings
There are two really great books on Sargent's travel paintings which have a good selection of watercolors. There are even others but these are my top picks:
"Sargent Abroad : Figures and Landscapes" by Warren Adelson, Donna Seldin Janis, Elaine Kilmurray, Elizabeth Oustinoff, Richard Ormond. These are some of the people that sit on the Catalogue Raisonne project and are about as expert as one can get. Outlines very well his travels throughout Europe and the quality of the images are every good. It's hard to put a downside to this, re-creating watercolors and oils in photographic images which are then printed in books is a tricky endeavor. The hard-core purist will never be satisfied with anything but the original but this book does very well at coming close. Some people felt the watercolors were washed out just a little. Another downside is the cost which puts it out of reach to some. 256 pages, 233 illustrations: of which 93 color oils; 104 color watercolors; 33 photographs; 3 black&white images.
"John Singer Sargent : The Sensualist" is a wonderful book at a much more approachable price. Though understand its a smaller book at 67 color plates. It was written by Trevor Fairbrother who was the curator of the Seattle Art Museum show which ended in March of, 2001. The book was written to coincide with that show.

The thing I like about all of Trevor's books is that guy simply loves the art of John Singer Sargent and it shows in quality and size of the pictures of the paintings. In many cases they are near full page. The first part of the book is geared more to an overview of his earlier work and done mostly in black and white (highlighting some of his major paintings). So in a way it tries to be somewhat of a survey book.

The brilliance of Trevor's book is that it tries to bring out previously unpublished travel paintings which were not in "Sargent Abroad" or other books. The rear of the book is exclusively devoted to an album of Sargent's male figure studies from the Harvard collection, printed on cream colored stock (maybe about a fifth or sixth of the book is devoted to the male nudes). The quality of the images are very good better, in fact than "Sargent Abroad" (which is good) but there is less of them. It is hard to put a down side to these niche books. Trevor, in writing this, is advancing a thesis as any good writer should. The selection of paintings is geared towards supporting his thesis so isn't necessarily a balanced presentation -- nor should it be for this excellent niche book. In fact, if money is not an option, BOTH books are a must in anyone's collection on Sargent. 226 pages with 67 color plates plus the male nudes. [1]

Male Nudes
"John Singer Sargent : The Male Nudes" by John Esten might be another you would want. The power of Sargent's art is what draws most people here. Published before Fairbrother's book, there isn't a lot of overlap between the two, thanks to Trevor, so those interested in Trevor's book will want to have both. 79 pages with 15 color plates, and 34 black-and-white drawings. [2]
For more books see Current Available Books