Breakfast In The Loggia
John Singer Sargent -- American painter
1910
Freer Gallery of Art
Smithsonian Institution, Washington, D.C.
Oil on canvas
52.1 x 71.1 cm (20 1/2 x 28 in)
Gift of Charles Lang Freer, F1917.182a-b
Jpg: Freer Gallery and local

(click on the image to step closer)
From: Wonsug Jung
10/23/99
The women are Lady Richmond (wife of Sir William Blake Richmond, best known for his mosaics in the chancel of St Paul's cathedral London) and Jane de Glehn who also appeared in The Garden Wall. All the paintings are from the Villa Torre Galli at Scandicci on the outskirts of Florence, where Sargent stayed with a party of friends during the autumn of 1910.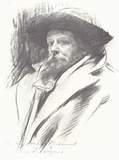 Sir William Blake Richmond RA
c. 1912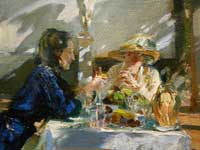 close-up of Breakfast In The Loggia
Notes:
See Two Studies in Light: a juxtaposition between Villa Torre Galli: The Loggia and Breakfast In The Loggia

Forum
From Diane
<MD SK 151@aol.com>
Date: 2/22/2000
I just discovered your site today and I am thrilled to see I can view [Breakfast In The Loggia] here . . . I just saw the original a week ago in Washington D. C. at Sackler/ Freer Gallery and I know nothing could satisfy me now but the original. What I loved was the way it was put under glass. It looked wet like he was just completed it. The colors in the ceiling of the patio were creamy blues and pinks and raw siennas.