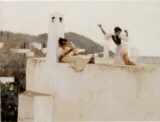 Rosina-Capri
Private collection
Oil on canvasa
19.7 x 25.5 in.
Signed
and

View of Capri
1878
Yale University Art Gallery, New Haven Ca.
Oil on academy board
10 x 13 1/4 in.
Edwin Austin Abbey Memorial Collectioni
Capri
John Singer Sargent -- American painter
1878
The Warner Collection of
Gulf States Paper Corporation,
Tuscaloosa, Alabama
Oil on canvas
50.8 x 63.5 cm (20 x 25 in.)
Inscribed ll "to my friend Fanny/John S. Sargent". lr "Capri 1878"
Jpg: local
The painting is of Rosina Ferrara doing a tarantella dance on the rooftop of (probably) Sargent's hotel. The inscription "to my friend Fanny" is Frances Sherborne Ridley Watts whom Sargent painted in 1877 for the Sargent's first Salon show.

Notes

Exhibitions
John Singer Sargent, An Exhibition
-- Whitney Museum, NY & The Art Institute of Chicago 1986-1987