Caterina Vlasto
(or Catherine)
John Singer Sargent -- American painter
1897
Hirshhorn Museum and Sculpture Garden, Smithsonian Institution, Washington, D.C.
Oil on canvas
148.6 x 85.4 cm (58 1/2 x 33 5/8 in.)
Gift of Joseph H. Hirshhorn, 1972
Accession Number: 72.256)
Jpg: local source / Hirshhorn
Caterina (or Catherine) Vlasto, born. 30 July 1875 Londen, UK, the eighth of nine children and died 3 June 1899 London, UK. She was the second youngest of her siblings:

| | |
| --- | --- |
| | Calliope (Alexandre) (1862-1933) |
| | Antoine (Alexandre) (1863-1933) |
| | Eustratius (Alexandre) (1864-1937) |
| | Mary (Alexandre) (1867-1914) |
| | Etienne (Alexandre) (1868-1935) |
| | Julia (Alexandre) (1870-1870) |
| | Augustus (Alexandre) (1872-1946) |
| | Caterina (Alexandre) (1875-1899) |
| | John (Alexandre) (1877 -) |
When Sargent painted her she would have been 22. The piano is identified (by Ormond and Kilmurray) as the Bechstein which was in Sargent's Tite Street studio.

The ancestors of the Vlasto family have been traced back to the island of Chios (Greece) and Constantinople (Turkey) of the 15th century. They were a noble family but were scatted in the 16th century to escape persecution from the Turks. By the 1800's they were all over Europe. Although Catherine was born in London, her father -- Alexandre (Antoine) Vlasto -- was born in Trieste, Italy (1833), and his father was born on the Greek island of Chios (1804).
(LES VLASTO)

From : Françoise Bernard Briès
F BB@JSSGallery.org
Date: Wed, 20 Mar 2002

Bonjour, Natasha

The image of Caterina Vlasto looks good on my screen !!! She is a distant relative of mine. You can see the genealogy that I've done at my website. There are two Caterina Vlastos, but the dates of birth and death should make it clear which one.

The origin of the Vlasto family is very remote. But we can at least trace it to the time when Kérofilas speaks of us around 300 AD. We know that this family existed both in Constantinople and in Crete where one finds at the present time many descendants.

Sincerely yours

Françoise Bernard Briès
(personal webpage)
La Grange du Tambour
30290 STVICTOR LA COSTE

From Natasha:

I just noticed that the date in your genealogy that both Catherine Vlasto and her father both died June 1899 London, UK. My first thought was maybe they had died together in an accident, but when I checked with "Portraits of the 1890's" (Kilmurray, Ormond. Complete Paintings Vol II, Yale University Press) they mention her cause of death was from an acute appendicitis, but could that have been brought on by an accident? Her father, according to your site died 6 Jun 1899 -- three days after Catherine -- died of a broken heart?


From : Françoise Bernard Briès
F BB@jssgallery.org
Date: Jan 6, 2006

I send to you the portrait of Catarina Vlasto as a child. Nicole and Tony [the owner's of this other painting and relatives of Catarina] don't know who the painter is.


Unknown Artist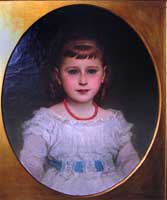 A young Catarina Vlasto
maybe 5 years old?



Notes
Special thanks to Françoise Bernard Briès, of St Victor la Coste, France, a friend of the JSS Gallery, for all her help.

Provenance

Alexander Anthony Vlasto (sitter's father), 1897-1899 (death)

Anthony Alexander Vlasto, 1899-1932 (death)

Mrs. Erato Vlasto, Ascot Berkshire, England (Mr. Vlasto's widow), 1932-1966

R. A. Vlasto (Mrs. E. Vlasto's grandson), sale, Christie's, London, 10 March 1967, no. 51, ill.

Joseph H. Hirshhorn, New York, 13 April 1967-6 March 1972 [through agent Gimpel Fils]

Gift of Joseph H. Hirshhorn, 1972

Exhibitions History

HIRSHHORN MUSEUM AND SCULPTURE GARDEN, Smithsonian Institution, Washington, DC. "Inaugural Exhibition," 1 October 1974-15 September 1975.

WHITNEY MUSEUM OF AMERICAN ART, New York. "John Singer Sargent," 1 October 1986-4 January 1987, no. 113, ill. p. 164, p. 287.

TOUR: ART INSTITUTE OF CHICAGO, 4 February-17 April 1987.

SMITHSONIAN INSTITUTION TRAVELING EXHIBITION SERVICE, Washington, DC. "New Horizons: American Painting 1840-1920," no. 46, ill.

TOUR: STATE TRATYAKOV MUSEUM, Moscow, 16 November 1987-6 January 1988;
STATE RUSSIAN MUSEUM, Leningrad, 22 January-13 March; MINSK STATE MUSEUM OF BELORUSSIYA, Minsk, 30 March-13 May.

NASSAU COUNTY MUSEUM OF ART, Roslyn, New York. "Stanford White and Louis Comfort Tiffany and Their Circle," 24 September 1998-3 January 1999.

MUSEUM OF AMERICAN ART, Pennsylvania Academy of the Fine Arts, Philadelphia, Pennsylvania. "Paris 1900: The 'American School' at the Universal Exposition," 11 February-16 April 2000. TOUR: ELVEHJEM MUSEUM OF ART, Madison, Wisconsin, 16 September-3 December; MUSEE CARNAVALET, Paris, 2 February-15 May 2001.

Bibliography

LERNER, ABRAM, ed. The Hirshhorn Museum and Sculpture Garden (New York: Abrams, 1974), p. 744, fig. 77.

UNSIGNED. John Singer Sargent, His Own Work (New York: Coe Kerr Gallery and Wittenborn Art Books, 1980).

PARK, EDWARDS. Treasures of the Smithsonian (Washington DC: Smithsonian Books, 1983), ill.

ATKINS, ROBERT. "Saluting Sargent," Horizon (October 1986), p. 12, ill.

HILLS, PATRICIA. John Singer Sargent (New York: Whitney Museum of American Art and Harry N. Abrams, 1986), pp. 174, 287, ill. p. 164.

UPDIKE, JOHN. Just Looking; Essays on Art (New York: Alfred A. Knopf, 1989), p. 50, ill.

BURNS, SARAH. "The 'Earnest, Untiring Worker' and the Magician of the Brush: Gender Politics in the Criticism of Cecilia Beaux," Oxford Art Jounal 15/1 (1992), p.37, fig. 3, p. 38.

CALO, MARY ANN, ed. Critical Issues in American Art: A Book of Readings (Boulder, Colorado: Westview Press, 1998), no. 2, ill. p. 180.