George Nathaniel, the Marquess Curzon of Kedleston

John Singer Sargent -- American painter

1914

Royal Geographical Society, England

Oil

100.3 x 77.5 cm (39 1/2 x 30 1/2 in)

Jpg: Friend of the JSS Gallery



From: Kris Radford
(rad ford k@shaw.ca)
Date: Tue, 23 Sep 2003

George Nathaniel Curzon, the Marquess Curzon of Kedleston (1859 -1925) was born January 11th, at Kedleston Hall, Derbyshire, he was an administrator, politician, and explorer. As an administrator, Curzon was to head the governance of a subcontinent -- Viceroy of India (1898-1905); and at University, he was Chancellor of Oxford (1907-1925). As a politician, Curzon served in both the House of Commons (1885-98), where he held some low-level posts in the government. As well as the House of Lords (1908-1925) where he held many important cabinet posts, including that of Foreign Secretary (1919-24). As an explorer he traveled widely, mainly in Asia - whose peoples and cultures dominated his life and career. In 1895 he won the prestigious Gold Medal of the Royal Geographical Society of London, for his explorations of Asia, and later he would serve as president of the Society from 1911-14. At the conclusion of Curzon's presidency Sargent was commissioned by the Society to produce this portrait of Curzon. In the painting, the decoration worn on his chest is called: "Grand Commander of the Most Exalted Order of the Star of India" which is properly worn on the left.

Lord Curzon died March 20th 1925, in London, his funeral was held at Westminster Abby, and he was interred at his family chapel at Kedleston Hall.

For more on Curzon the best, and most resent biography is Curzon, by David Gilmour, published by J. Murray, London, 1994.

I think this is a brief as I can be, while still giving justice to a very long, varied, and distinguished career. [2]

* * *


The Marquess had married firstly to Mary Victoria Leiter (d. 1906) [off site], with whom he had three daughters.

He married secondly to Grace Elvina: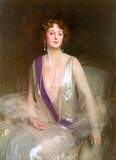 Grace Elvina
1925
(second wife to George Nathaniel)
Of his first marriage, Mary Leiter Curzon, was from a wealthy American family from Chicago. She was the love of George's life. She went with him to India where she was a highly successful Vicereine. However, the climate as well as other problems caught up with her and she died in 1906. In his grief he built an enormous mausoleum in her memory [1].

Mary's sister Margaret 'Daisy' Leiter (thumbnail below), was also painted by Sargent, in 1898. Daisy later married the Earl of Suffolk and became the Countess of Suffolk.

Margaret 'Daisy' Leiter
1898
(George Nathaniel's 1st wife's sister)

Philip Alexius de Laszlo

Elinor Glyn
1915
(Mistress to George Nathaniel)




Note:
Special thanks to Matt Davies, of Kansas City, and Kris Radford, of Victoria; British Columbia, both friends of the JSS Gallery, for helping me with this plate.

The SIRIS shows a painting entitled:
"Marquess Curzon of Kedleston"
1914
Royal Geographical Society, England
Oil
100.3 x 77.5 cm (39 1/2 x 30 1/2 in)
Portrait male - Waist length
I known George Nathaniel is the Marquess Curzon so I'm assuming that this must be the 1914 painting sited by SIRIS

1) Info from an anonymous friend of the JSS Gallery


2) Kris Radford; Student of History and Political Science at the University of Victoria; British Columbia. Besides supplying the text, Kris helped identify the decoration and helped clarify that I had the image flipped originally.