Grace Elvina
Mrs. George Nathaniel Curzon (Grace Elvina, Marchioness Curzon of Kedleston)
From: Matt Davies
<Matt Davies@JSSGallery.org>
Date: Mon, 18 Mar 2002
Grace Elvina Hinds Duggan Curzon, Marchioness Curzon of Kedleston (1879-1958).
Daughter of J. Monroe Hinds, United States Minister to Brazil, Grace Elvina was married firstly to Alfred Duggan of Buenos Aires. Widowed by Duggan, she then married secondly on 2 January 1917 to George Nathaniel Curzon, 1st Marquess Curzon of Kedleston (1859 -1925). Grace was the authoress of a book of Reminiscences.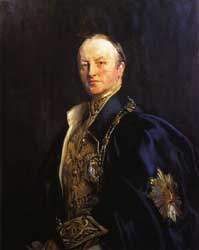 George Nathaniel, the Marquess Curzon of Kedleston
1914
(Grace's second husband)

Sun, 23 Feb 2003
In the book she describes how Sargent came to paint her: [Paragraph breaks added with "p"]

"Some time after we were married, George, who knew Mr. Sargent very well, wrote to ask him if he would paint a portrait of me, although he knew that Mr. Sargent had announced that he would accept no more commissions for portraits. He received a reply regretting that this commission could not be undertaken. [p]

However, soon after this, Evan Charteris wrote and asked me to dinner - without George, because he said that he needed only a woman to complete his dinner party. When I arrived, I found that there were only four of us! - Lady Desborough, and Mr. Sargent, as well as myself and our host. The next day Sargent wrote to George, saying, in effect, Now that I have seen your wife, I have changed my mind, and I do agree to paint her." I gave him many sittings, and George was never allowed to see the progress of the picture. Sargent was adamant on this point, and I did my best to co-operate with him in persuading George to stay away from the Studio. [p]

When at last the portrait was finished, George went with me to see it. Sargent and I waited in some trepidation for his verdict - at least, I did, because Sargent was a somewhat prickly character who did not care for criticism, and I dreaded some crushing moment from George. George stood for a long time gazing at the portrait, with his back to us as we stood in silence behind him. Then he suddenly turned round to us with the tears running down his face and seized both of Sargent's hands in his own, exclaiming, 'But it is ideal - I could not wish for anything better!' My relief was enormous, and Sargent seemed genuinely pleased, as indeed he might be by so spontaneous and heartfelt a tribute. Poor man, he died very soon afterwards, and this portrait of me was hung in the Royal Academy Exhibition of that year with a wreath of laurel leaves as a memorial to this great painter whose last exhibited picture it was."
From: The Currier Gallery of Art
Lady Curzon . . . was the last portrait that Sargent painted [in oil]. . . Sargent artfully and deliberately renders her [with a purple sash and star of the Grand Cross of the British Empire exemplifying] the flair and elegance of Sargent's style. Her look is wistful, and may reveal the underlying sadness that she perhaps felt, for her marriage to Lord Curzon was not a success and the two lived apart for much of the period before his death in 1925.
(The Currier Gallery)

Notes

Forum
From: Matt Davies (continued)
Date: Mon, 18 Mar 2002
[As for me,] I am not a relative of Grace Elvina. I just know a little bit about her from my reading. When I was in college I spent a semester in Oxford, England, and became fascinated with the history of the British aristocracy from the late 1800's until WWII. So, ever since then I've been sort of collecting books, old newspapers and magazines, etc. on that subject. When I saw 'Grace Elvina' on your site I recognized her name (I have a pretty good memory for names). I did look her up on the Internet to get her birth and death dates - but I'm sorry I don't remember what the site was. I also found some other sites that had bits about her or her family. By her first husband she had two sons - Alfred Leo Duggan who is a fairly well-known author, and Hubert Duggan. The site where I found Hubert Duggan was interesting. Apparenly he was a school friend of Evelyn Waugh, who was present when Hubert died at a young age. His death was influential on the death scene in Waugh's Brideshead Revisited.
The information on Grace Elvina's second husband, George Nathaniel Curzon, was pretty much from my own memory. I've read a couple of books on the Souls, the group of aristocrats who served sort of as the intellectual foils to the Prince of Wales (later King Edward VII) and his 'Marlborough House Set.' Curzon was a member of the Souls. Sargent painted or drew various other members of the Souls - Winifred Duchess of Portland, Arthur James Balfour, Lady Elcho (one of the three subjects portrayed in The Wyndham Sisters). I also have books that have copies of his charcoal drawings of Margot Tennant Asquith and Ettie Lady Desborough. He also drew many of their children in later years - Margot's son Anthony ('Puffin') Asquith for example. If you haven't heard much about the Souls, I think they were a fascinating group, and if you ever want to read about them, two books I would recommend - Jane Abdy and Charlotte Gere, The Souls (this is the one that has several great Sargent drawings in it), and Angela Lambert, Unquiet Souls.
Talk to you later!
-Matt

* * *

1) Marlborough House was in fact a large residence, unconnected to the actual Duke of Marlborough Family
-- Lora Premo
(Friend of the JSS Gallery)


From: Matt Davies
Date: Mon, 18 Mar 2002

Hi Natasha,
I have visited your site several times over the last couple of months and wanted to send you an e-mail and let you know that I think you have done a wonderful job, especially as I have seen the site continue to grow. I am an ardent admirer of Sargent's work - so much so that in 1999 when the National Gallery in Washington, D.C., had their Sargent exhibit, I drove the 16 hours from Kansas City to D.C. just to see the exhibit. I have also been privileged to see, in person, the Sargent paintings at the Tate in London, the Metropolitan Museum of Art in NYC, and at the MFA and Isabella Stewart Gardner Museums in Boston. Anyway, I saw the reproduction of the painting of 'Grace Elvina' on your site and noticed that she did not have a biography, so I thought I might provide you with some info so maybe you could give her a bio on the site:
[Bio info included above]

Anyway, it was nice to 'meet' you via e-mail. Take care!

Matt Davies
Kansas City, MO