Interior of Dodge's Palace
John Singer Sargent -- American painter
1898
Private collection
Oil on canvas
50.2 x 69.2 cm (19 3/4 x 27 1/4 in.)
Jpg: local
This is of the Sala del Maggiore Consiglio -- a huge room measuring some 50 meters long (164 feet) located in the Palazzo Ducale. It was in this room that they would elect the Doge and its government by the Maggior Consiglio.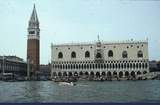 Palazzo Ducale
(Dodge's Palace)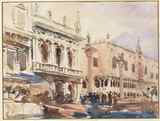 The Piazzetta and Ducale Palace
c. 1907
In 1574 the French King Henri III (r. 1574 - 1589) visited, and a banquet was held in this room with some 3,000 guests present.
In 1577, the room was destroyed by fire but rebuilt with even more luxury then before, including a gilded ceiling which we see in Sargent's painting -- In fact the ceiling is a prominent feature in the composition. The room was decorated by the greatest artists of the time such as Palma, Tintoretto, Veronese, and Bassano.
Sargent has set his easel to face east and we can see, somewhat, Tintoretto's Paradise along the far wall -- a massive painting measuring 22 x 7 meters. In fact this is the largest surviving painting of that time period -- anywhere.
The oval ceiling painting (located center) is by Paolo Veronese called "Triumph of Venice" and proclaimed the greatness of this island nation.
Paolo Veronese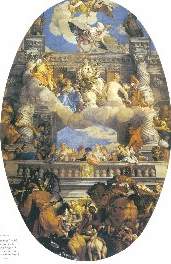 Triumph of Venice


Notes:
See the year in review 1898