Madame Gautreau Drinking a Toast

John Singer Sargent -- American painter

c. 1883

Isabella Stewart Gardner Museum, Boston

Oil on panel

32 x 42 cm (12 5/8 x 16 1/8 in.)

Jpg: Resource Library

This painting has an interesting provenance. Sargent had dedicated it to Madame Gautreau's mother, Madame Anotole Avengno. Later it was bought by Dr. Pozzi, whom reportedly had an affair with Madame Gautreau. It would eventually be purchased by Isabella Stewart Gardner at the estate sale of Pozzi.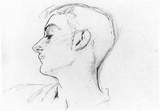 Madame Pierre Gauteau (Study)

Notes:

Exhibitions
Sargent's Women, Adelson Galleries, New York, 2003