Miss Elsie Palmer


John Singer Sargent -- American painter


1889-90


Colorado Springs Fine Arts Center


Oil on canvas


190.8 x 114.6 cm (75 1/8 x 45 1/8 in.)


Jpg: local source
Miss Elsie Palmer later Mrs. L. H. Myers (1873-1955). She was the daughter of a wealthy expatriate American from Colorado. Mrs. Palmer had rented the Ightham Mote house near Kent of which Sargent became a frequent guest. It was here that he also painted A Game of Bowls.
At this time, Sargent was far more popular with Americans and although Elsie herself was American it would be paintings such as this that did much to break the ice with the British and eventually bring them around to Sargent style.
Notes:
The Fogg museum at Harvard has two studies of this painting, the one below which is an oil and a pen and ink drawing.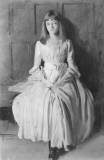 Sketch of Miss Elsie Palmer (1873-1955)
c. 1889-90
Sargent at Harvard
Oil on canvas
30 x 19 3/8 in (actual)
Framed 34 3/8 x 23 1/2 x 1 3/4 in
Gift of Grenville L. WinthropJim's Fine Art Collection


Exhibitions

John Singer Sargent, An Exhibition

-- Whitney Museum, NY & The Art Institute of Chicago 1986-1987



Great Expectations: John Singer Sargent Painting Children; 2004-2005

See the year in review 1889