Mrs. Adrian Iselin

(nee Eleanora O'Donnell)

John Singer Sargent -- American painter

1888

National Gallery of Art, Washington, DC

Oil on canvas

60 1/2 x 36 1/2 in.

Gift of Ernest Iseli

Inscription: upper left: John S. Sargent; upper right: 1888

Jpg: local

(click on the image to step closer)

Eleanora (1818-1905), was the wife of a Swiss-American businessman. They were from New York where this was painted. She was 64 years old.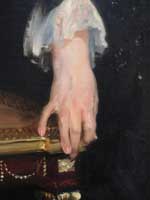 Close-up Mrs. Iselin's hand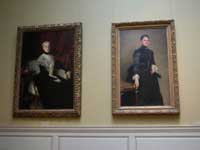 See as it hangs at the
National Gallery, Washington, D.C.
2003
Notes:
Exhibitions
John Singer Sargent, An Exhibition
-- Whitney Museum, NY & The Art Institute of Chicago 1986-1987