Mrs. Fiske Warren (Gretchen Osgood) and Her Daughter Rachel
John Singer Sargent -- American painter
1903
Museum of Fine Arts, Boston
Oil on canvas
152.4 x 102.55 cm (60 x 40 3/8 in.)
Gift of Mrs. Rachel Warren Barton and
Emily L. Ainsley Fund 64.693
Jpg: MFA / CGFA

(See more at the MFA)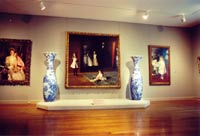 See as it hung at the MFA, Boston
May 27, 2002

Notes:

Provenance:
The artist; to Fiske Warren, Brookline, Mass., 1903; to Mrs. Fiske Warren, Boston, the sitter, 1938; to Mrs. Rachel Warren Barton (the other sitter) and Hamilton Warren, her children, 1961; to MFA, 1964, gift of Mrs. Rachel Warren Barton and purchase.
Forum:
From: Michael S. Burroughs
<Mjbur roughs md@aol.com>
Date: Sat, 23 Aug 2003
One of his many interesting paintings is that of 'Mrs. Fiske Warren and her daughter Rachel' one, the ties that the painting has to the Isabella Stewart Gardner home. Which, obviously today we know it as the Isabella Stewart Gardner Museum. My deepest thoughts of this painting go back to my college days in Boston. I chose to go to school there because of Sargent's 'El Jaleo'. I happened to spend more time at the MFA for the mere fact that it was free. And whenever I visited the MFA, (on my way to the ISG Museum) and saw the wonderful collection of Sargent's works there I wanted to learn more about his ties with Boston and their beurocrats. What's interesting about this painting is that it was painted on the third floor of the Gardner home. The same room where the Vermeer was stolen. In the painting, their is the Madonna and Child sculpture, and the beautiful ornate chairs that they are sitting in are still in that room to this day. Or at least when I last was there. My most memorable thing about this painting and John Singer Sargent is a post card of him in the process of painting 'Mrs. Fiske Warren and her Daughter Rachel'. Sargent was one for true flattery. The post card showed Mrs. Fiske Warren to a tee. But, there was something quite the opposite of Rachel. Quite the homely looking thing. No wonder he was as amazing as he was; I know in my own painting i couldn't be that good at manipulation. Anyways, I've enjoyed your site. I am and always will be a huge Sargent fan. My years in Boston were for the fact of his brilliance and I take that into my own work everyday of my life.
Michael S. Burroughs

From:Gretchen Osgood
oz fa m@pivot.net
Date: Thursday, November 27, 2003
Hi Natasha, My name is Gretchen Osgood and my daughter's name is Rachel. She was killed September 29, 2001 at the age of 3. My husband was hauling our camper and it broke loose. She was hit and there was nothing we could do. I've been researching lately about the afterlife and where she might be and doing and this picture came up. My mind has been spinning since I saw it. Is someone trying to tell me she's okay? Who knows but I just wanted to share with you this coincidence. I'm going to order the print as the oil reproduction is beyond my budget. I'm comforted a bit by all of this.
Happy Thanksgiving.
Gretchen Osgood