Mrs. George Swinton
(nee Elizabeth "'Elsie" Ebsworth)
John Singer Sargent -- American painter
1897
Art Institute of Chicago
Oil on canvas
228.6 x 124.5 cm (90 x 49 in.)
Signed, lower left: "John S. Sargent"
Wirt D. Walker Collection, 1922.4450
Jpg: local / ArtInstituteofChicago
(click on the image to step closer)
From: "A Numerous and Fashionable Audience: The Story of Elsie Swinton,"
by David Greer
Posted: Wed, 30 Oct 2002
Elizabeth "'Elsie" Swinton (1874-1966), nee Ebsworth, was a prominent society lady in Edwardian England, who in 1906 took the unusual step (for a person of her social rank in those days) of becoming a professional singer, and in the years up to the First World War she had a successful career despite family opposition. She was also of striking appearance, and there are portraits of her by Sargent, Sickert and others. In her singing career she worked with well-known musicians such as Hamilton Harty, Percy Grainger and Gabriel Faure (who was one of her many admirers). She also kept open house to many, including Stravinsky, Prokofiev, Szymanowski and Arthur Rubinstein. After the war, opposition from the family and other factors led her to abandon her career and she turned to good works and exploration of arcane philosophies.
Although British, she actually grew up in St Petersburg, and left vivid accounts of life in pre-Revolution Russia.
This book is based on unpublished memoirs by Elsie and other members of the family. It includes an appendix of hitherto unknown lettersto her from Faure.
--author
The books author:- DAVID GREER
Department of Music
University of Durham
Palace Green
Durham DH1 3RL
GB-England



Portrait drawing ("Mug") of Mrs. George Swinton
1906
Inscribed, signed and dated: "To my friend Mrs. Swinton/John S. Sargent 1906"
Captain George Sitwell Campbell Swinton
1912
(husband to Elsie)
Notes
Thanks to Fred de Bradeny, of England, a decendent of Mrs. George Swinton and friend of the JSS Gallery, for sending me the the excerp from "A Numerous and Fashionable Audience: The Story of Elsie Swinton"


Exhibitions

John Singer Sargent, An Exhibition

-- Whitney Museum, NY & The Art Institute of Chicago 1986-1987

Forum

From: Fred de Bradeny
<fde brad eny@yahoo.co.uk>
Date: Mon, 28 Oct 2002

Elsie Swinton was my great-grand mother, or was it great-great grandmother, anyway the Swinton family went on to many great things, the most recent being my cousin Tilda Swinton, the actress!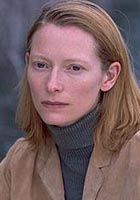 Tilda Swinton
Some of her films have been:
- Edward II (1992)
- Orlando (1993)
- Conceiving Ada (1998)
- The Beach (2000)
- Adaptation (2002)
Wed, 30 Oct 2002
My mother gave me a biography on Elsie a couple of years ago, "A Numerous and Fashionable Audience: The Story of Elsie Swinton," by David Greer. It was fascinating.
Good luck with your investigations
Fred de Bradeny
[Editor's Note: Fred sent an excerpt from the book which located above]

From: Sue Collins
email contact see Fred de Bradeny
<fd ebra deny@yahoo.co.uk>
Date: Fri, 1 November 2002
Hi Natasha,
I've received an e.mail from my son Fred de Bradeny, saying you would like to know more about Elsie Swinton [my grandmother]. In brief: she came from an interesting family & married into an even more interesting & talented one. She led an incredible life & lived till 91, though her last years were rather grim health wise, I was 21 when she died so remember her very well. I think the best thing you could do if you are really interested in her, is to read her biography, " A Numerous and Fashionable Audience" by David Greer 1997. . .Tilda is Elsie's great grandchild, & is probably just old enough to remember her.
Also there is a man in Australia who is a very distant Swinton who runs the Swinton Society for Swintons all over the world, his e.mail is: gary. swin ton@arts.monash.edu.au [e-mail all one word] . In answer to some of your ?'s: The Sargent picture was sold by her & George (George died in 1937 before I was born) in 1922 to Wirt Walker & then it ended up in the The Art Institute in Chicago, I imagine because it is so huge, they had no way of hanging it, when they moved homes. There are also several drawings of her also by Sargent which are reproduced in various Sargent books & occasionally go on exhibition, & I see you have one on your web site i.e. "To my friend Mrs Swinton".
. . .There are other paintings of Elsie by many other artists, sadly all in Museums, she was a great beauty & at the forefront of London Society. Anyway I hope this info. has been helpful.
Best wishes,
Sue Collins
(Additional notes offline)