Ethel Barrymore
Print from her Autobiography

John Singer Sargent -- American painter
1903


Print from dust jacket of book
Jpg: Francesca Miller




From: Francesca Miller

fran ce sca. miller@comcast.net

Date: Oct 13, 2005

I did some looking around on the internet and I found a 1st addition autobiography on Ethel Barrymore which I purchased. It finally came in the mail and I scanned the image of Ethel from the dust jacket. The book is old and mildewed but it's a first edition.
(Ethel Barrymore)

[I was performing in the play "The Country Mouse" which] was a success in New York and on tour. When we were in Boston I got a letter saying, "Would it be possible to give me an hour or maybe two? I would like to do a drawing of you and I would be honoured to present you with the drawing afterward." The letter was signed John Singer Sargent.

Of course it was the most exciting thing. He was working on his "Prophets" for the Boston Public Library at the time and was staying with the Montgomery Searses. Mrs. Sears had given him the whole top floor of her house as his studio, and that is where he made the sketch of me. I remember that he always had trouble with the self-working elevator. It would stop and go, stop and go, and finally got there.

He was delightful, humming around the room while he worked. He would sit down occasionally while in the midst of the drawing and play little snatches on the piano and then come back to his work again. He found it was very hard to draw my mouth. He would say, "I try to draw a delicate line and I produce a beam."

He gave me the drawing which he said later was his favorite charcoal. It is quite my most treasured procession.


(Ethel Barrrymore: Memories; Hulton Press Limited, London, 1956; pp.105-106)
From: the dust jacket of the book





It is one of the Great Curiosities that Ethel Barrymore, the greatest American actress, is only known outside her country because of her film performances, except to a relatively small minority. Yet the fact is that her fame as an actress began with her arrival as a young girl in London in the eighteen-nineties, when she achieved a success that reads like a fairly story.

Before she was twenty, Sir Henry Irving and Ellen Terry asked her to become the 'little leading lady' on the eve of her leaving, penniless, for America; Pinero[1] described her as 'The most natural thing I've ever seen on stage'; and the Duke of York (later George V) and leading members of society were as anxious to meet and see her as the general public. In the next few years her fiancés included Irving's son and Gerald du Maurier, and her circle of life-long friends came to include Asquith and Churchill. In America she quickly became the first Lady of the Stage and her seventieth birthday was the occasion of tributes rarely paid to those other than national leaders and heroes




Some other interesting excerpts





The play ran into the summer [

Captain Jinks

] -- I remember that we played a Fourth of July matinee – and we didn't close long enough for me to go to England. Instead I went to stay at Marion with Davies and at Beverly Farms with Mr. and Mrs. Sears and Eleanora. I think Eleo is one of the most interesting figures in America. She has more charm than anybody I ever met and a devastating smile that Sargent caught so mervellously in his drawing of her. In the evenings at Beverly Farms when I had to stay indoors and play the piano for Mr. and Mrs. Sears, Eleo would be on the porch with a beau. I never knew anybody who had so many beaux and such nice ones, but she never married anybody. I loved Eleo and I still do. She calls me Birry. Every once in a while she'll wire to me: "Birry, where are you? Why don't you ever write? Why don't you come East? Love Eleo."







See also: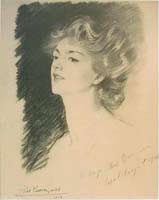 Ethel Barrymore
1903
Charcoal drawing

Note:
Special thanks to Francesca Miller, of California, a friend of the JSS Gallery, for sending this image.


See the year in review 1903


1) Arthur Wing Pinero was a London playwright (1855- 1934) and was knighted in 1909.