Portrait of Colonel Thomas Vickers

John Singer Sargent -- American painter

1884

Private collection

Oil

76.2 x 63.5 cm (30 x 25 in.

Jpg: Askart.com & athenaeum.org

Portrait of Colonel Thomas Edward Vickers, C.B., V.D., J.P. (1833-1915).

He became the principle owner and Director of of the family business, a Sheffield engineering firm called Vickers, Sons & Co. Ltd.(1) A native son of Sheffield; a prominent business owner, the town made him Justice of the Peace and Master Cutler in 1872. He also was one of the founders of the Hallamshire Rifles, a volunteer regiment, joining at the age of 26 and rising to the rank of Colonel in 1884. Queen Victoria awarded him the Order of Bath in 1898.

He married Frances Mary Douglas in 1860 and they would have six children -- the first was one year after there marriage. Seven years after that, around the time of their fifth child (1869), they bought Bolsover Hill, an eleven acre estate on the north side of Sheffield (since torn down) with a greenhouse, three-stall stable, double coach-house, a man's servant's cottage, laundry, offices, yards, and gardens. The house itself had two kitchens and seven bedrooms. They employed eight servants -- a coachman, cook, laundrymaid, housemaid, two nurses, kitchenmaid, and parlourmaid).
(census records noted in Hamilton's book)

By 1884, he had achieved a lot, and it was time to immortalize his family in portraits. The timing especially seemed right given their eldest daughter was turning twenty-one.

The previous year, the Colonel and his wife agreed that she should travel to Paris for the Salon (1883) in order to pick a suitable artist.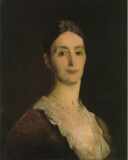 Portrait of Frances Mary Vickers

* * *

Colonel Thomas Vickers was a native son of Sheffield and was educated at Sheffield Collegiate School and then at Neuwied in a small town by the same name on the Rhine, just north of Koblenz.

Note:

Sold Sothebys; 3/11/1999; Lot 93; $31,625

Sold Sothebys; 12/1/1994; Lot 18; $15,525

See the The Misses Vickers
See the year in review 1883-1884
1) The Vickers company was later called "Vickers, Sons and Maxim Limited, River Don Works, Sheffield"

Hiram Maxim was an American inventor who settled in south London, England and developed the machine gun.
(John Davison <theme wea ver@hotmail.com>, 10/4/2004)