Portrait of Frances Mary Vickers
John Singer Sargent -- American painter
1884
Private collection
Oil on canvas

23.5 x 19 in.
Jpg: Askart.com
Jpg: webshots

Frances Mary Vickers, née Douglas (1841-1904) was the wife of Colonel Thomas Vickers. They were married in 1860 and would have six children:

Douglas (1861-1937)
Married Katherine Cherwynd
(four children)
Marbel Frances (1872-1894)
Clara Mildred "Mildred" (1865-1952)
Married 1) Cecil Perry (d. 1901)
Married 2) R.W. Skipwith
No children
Florence Evelyn "Evelyn" (1867-1947)
Married W. H. Hamilton-Gorden
No children
Ronald (1869-1942) Painted by Sargent 1884 (N/A)
Married 1) Esther Brown
4 children

Constance Mabel (b. 1899)
Antony Ronold (b.1901)
Frances Moyra (1902-03)
Frances Margaret Clare (b.1905)

Married 2) Mildred Higgs
3 children

Thomas and Richard (b.1916) twins
Rosemary (b.1918)
Bertha (1870-1946)



Frances had been the only child of the London surgeon Joseph Douglas. When she was 17 (1858), she went to Paris to study art at the Institute Fournier, and stayed for two years. She apparently returned to London by the summer of 1859 and was married to Thomas Vickers by the end of the following year. After their marriage the couple traveled over the years on vacations to places such as Paris and Florence taking their children with them.

She kept at her drawing, though mostly as a hobby, documenting family life in pen and ink sketches, writing little notes in perfect penmanship of what it was at the margins, as well as landscape scenes in watercolors. In James Hamilton's book "The Misses Vickers, The Centenary of the Painting" he documented some of her drawings and paintings. She seems to have encouraged her daughters in drawing and painting, giving them the same sort of education that she had. At least "Mildred" took it up, and by 1920 she was a better artist than her mother.

When Frances traveled to Paris for the Salon of 1883 for the purpose of selecting an appropriate artist for the family, she would have a fairly decent understanding of the city and its art scene. She must have been taken by the acclaimed painting of the Four Daughters of Edward Darley Boit done by a young American artist. All of Paris was abuzz by this painting, and her own three daughters deserved no less an artist.

When Sargent did finally come for the commission, he would stay over a period of three weeks -- according to Frances' diary. It's quite probable that he tutored Frances along with the three daughters in their own art (given the mother's background) as part of his fee -- or he might have just done it informally, taking them out painting as he had done with his own family and friends. James Hamilton, in his book (published in 1884) said he searched for other Sargent paintings which might have emerged from Sheffield but none have to that date. But clearly, Frances' later watercolors such as "Waterfall in Spate," n.d. is much more along the lines of Sargent's method.

Sargent warmed to the hospitality of the Vickers and they to him over the course of his stay. He seems to have kept in friendly contact with the family over his life since he would paint the eldest son Douglas Vickers as late as 1914.

It was a common theme that ran throughout John's various commissions. He would often approach a portrait with more than just a little trepidation. There were always self doubts as to whether he could pull it off, and he was always self abasing towards the task that loomed seemingly unattainable in front of him. When he wrote to Vernon Lee about the "three ugly young women at Sheffield" (and there is no evidence that he ever actually met them prior, according to Hamilton) it was his way of expressing that inner fear that always bit at his heels.

But he pressed on, and as if through pure will and determination he could -- and would win -- not only in his struggler against the canvas and paint, but win the hearts of those that he painted. There are countless examples of John dreading a commission, then traveling to their home, staying weeks (living out of a suitcase like a gypsy) and once having done the damned thing, leaving, not only the painting, but new life-long friends that just adored him. It wasn't always the case, but it happened more often than not.

Life at Bolsover Hill (which was their home at Sheffield) seems to have had its' moments of playfulness. Frances's mother, who was widowed, also lived with them. So if you consider the six kids, the two adults, and the widowed grandmother: Emma Douglas, it all made for quite a family. For example, papers from the Vickers Family Trust revealed a theater program the family printed in 1880 called "Theatre Royal, Bolsover Hill." This particular program proclaimed "Tuesday and Wednesday 13th and 14th January" as the dates for a particular show and even listed a "season" of three playlets written by the daughters and performed by the "Distinguished Company."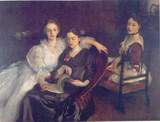 The Misses Vickers
Note:
Offered by Sotheby's; 12/1/1994; Lot 19; estimated $25,00-$35,000