Portrait of Major George Conrad Roller
John Singer Sargent -- American painter
c. 1892?
Private collection
Oil
16.5 x 17 in.
Jpg: Askart.com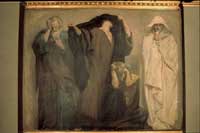 Prophets: Zephaniah, Joel, Obadiah, Hosea
(on West Wall)
Boston Public Library Mural
Sargent enlisted the help of a number of his friends to model for head studies for the Boston mural -- Frieze of Prophets. It was a fun thing for him to put the likeness of his friends in the murals. He had done it when he was painting in Paris in 1877 at the Palais du Luxembourg under the apprenticeship of Carolus-Duran. He and his friend James Carroll Beckwith had painted each other's faces in the mural "The triumph of Maria de Medici".
George Conrad Roller was a friend and neighbor of John at Fairford and loaned him a house to stay for a while. Roller was also an amateur artist whom would later turn professional, traveling with Sargent on one (if not more) of his trips to the south of Europe.
In 1910 Sargent painted "The Cashmere Shawl" and inscribed it to George Roller.

From: Michael Roller
ro ll ers@ukgateway.net
Date: Oct 11, 2005

I'm forwarding to you something about George Roller put out by a Local Historical Society.

Tadley and District History Society

Major George Roller - a Tadley hero

Tadley and District Historical Society
ProjectNews
Issue 8
June 2005



Multi-talented local resident Major George C Roller (1856-1941) was an artist, a soldier who served in both the Boer War and World War I, a steeplechase rider, a London Magistrate, and a Governor of London Hospitals and the Royal Berkshire Hospital. He excelled at all these tasks, but it is his skill as a painter/artist, and in particular a picture restorer, that he was known world-wide. For much of his life George lived in Tadley: at The Wilderness (now Tadley Court) and The Cottage (now Rollers).



Early years (parents, education etc)



George Conrad Roller was born on 10 June 1856, the eldest son of Frederick and Eva Roller. His father, a naturalised British subject, was born in Germany and his mother in Flintshire. Frederick was born in 1817 and emigrated to England in 1842, where he married Eva Eyton in 1853. The Eytons were a well known Welsh family and for Frederick Roller to have the permission of Eva's father to marry her, when he was not naturalised as a British citizen, is a sign that he must have been successful in his business. He was a partner in a firm of import merchants, importing the bark of the chinchona tree from South America, which was used to make quinine.

In 1857 Frederick became a naturalised British citizen. The certifi cate of naturalisation says that he sought to become naturalised in order to purchase the freehold of a house at Clapham Common. This house would have been The Grange where the family lived for a long time. Their eldest child, George, would have been a year old at that time, and this is possibly another reason why Frederick decided to become naturalised.

By the 1861 census the family (Frederick, Eva and their children George, William and John) were listed as living in New Park, Wandsworth. An 1862 trade directory lists Frederick as a general merchant working from premises in Love Lane, Eastcheap.



George's artistic career



George was educated at Westminster School, from where he went on to study art in London at Lambeth Art School and then in Paris under Bouguereau and Fleury.

He was known primarily as a portrait painter but he also painted a number of sporting and equestrian subjects – his horses were beautifully painted with superb movement. He was also Sporting Advertisement Designer to Burberry for over 30 years and picture restorer to the Royal Academy for 20 years.

He was a long time friend of the artist John Singer Sargent (1856-1925) and was thought to have travelled with him on painting trips abroad. Sargent, an American portrait painter, was recognised as the leading portraitist in England and the United States at the turn of the century, acclaimed for his elegant and very stylish depictions of high society. There are several paintings by Sargent of members of the Roller family, including George and his mother.

During his working life George exhibited at many galleries, mostly between 1884-1906. One of his paintings, exhibited in 1904 and now in The Museum of Reading, shows an impressive Boer War battle scene with Major WH Mullens and his squadron of the Middlesex Yeomanry. He was elected to the Royal Society of Painters-Etchers and Engravers in 1885 and his work was illustrated in The Graphic and Illustrated News. He also contributed to several publications including Black and White, Pick Me Up and Pall Mall.

His brother, the cricketer William Eyton Roller, was a distinguished batsman who played for Surrey in the latter part of the 19th Century. A painting by George hangs in Surrey County Cricket Club and shows his brother walking down the pavilion steps at the Oval.

As well as being a recognised painter, George was also a renowned picture restorer to important galleries in England, America and on the Continent. Amongst his clients was the Royal Academy, for whom he worked for 20 years. One commission from the Royal Academy was for the restoration of three pictures damaged by Suffragettes in May 1914.

The Burberry connection


Roller's Burberry Ad

During the late 19th and early 20th centuries the Roller family had close links with Burberry. Today the firm is well known for its upmarket fashion clothing with its distinctive check patterned cloth (originally the design for their coat linings). However, the firm had very different origins in the 19th century. Thomas Burberry opened his first outfitters shop at the age of 21 in Winchester Street, Basingstoke (1856). He was not just interested in making and selling clothes, but also in the reasons why they were worn. After experimentation he successfully developed a cotton woven weatherproof material which he called gabardine. The material was completely waterproof yet was cool and comfortable to wear. Famous for outdoor clothing for sports, explorers and the forces, the firm became very successful; by 1871 the Basingstoke shop employed 80 staff. In 1891 the firm opened a new store in London, at 18-22 Haymarket; in 1912 they moved to new premises at 30 Haymarket, which is the firm's headquarters today.


Roller's Burberry Ad Drawing

Thomas Burberry was an ardent Baptist, teetotaller, non smoker and keen sportsman. By Roller's account, it seems to have been through their shared interest in horses that they became friends which led to him starting his artistic career with the company. He illustrated Burberry's advertisements for nearly 40 years. A visit by TADS to the Burberry archives in 2000 highlighted the extent and importance of his role in creating and maintaining Burberry's image during the early 1900s; in the era before the widespread use of photography in clothing advertising, the majority of line drawings used in Burberry's advertising bore Roller's signature. He continued this work during his army career; while stationed in Newbridge, Ireland he used army personnel to model Burberry's clothes for him to draw!

His younger brother, Frederick, was also connected with the company – as a company solicitor and by the mid 1920s as a member of the board of directors.



Gabardine



Thomas Burberry made Roller a gift of a horse that Thomas described as 'painfully small and nondescript and looking like a brown bear'. It seems that Burberry's groom had made a mistake in offering this particular mare. However, time showed that this small beast, named Gabardine, although 'funny tempered and having no nice feelings for anyone' was a tough, speedy, brave mare 'who could bound over obstacles like an india-rubber ball'. Gabardine carried Major Roller through the Boer War and he was convinced that the mare's qualities saved his life on more than one occasion during the campaign.


Gabardine's Stone



George's military career



As well as his artistic career, George also had a long and successful military career. He served in the Old Middlesex Company Yeomanry for twenty years, rising to the rank of Company Sergeant-Major. In 1898-99 he joined the recently formed 34th Company of the Middlesex Imperial Yeomanry and served in the Boer War. He went out to South Africa in 1899 and came home in June 1900. He was mentioned in General Rundle's farewell speech in Harrismith on 13 June 1900, was in Lord Roberts' list of recommendations for meritorious services (4 September 1901) and was awarded the Distinguished Conduct Medal (DCM) (The London Gazette, 27 September 1901).

Stories concerning George's military activities and exploits abound, his horse, Gabardine, featuring in one of them. During the Boer War, he was the officer in command of the 34th Company at Senekal Kopje (25 May 1900) when it was engaged in a hopeless attack against the Boers who were positioned safely at the top of a steep slope. The yeomanry were forced to dismount under withering fire and lie down. Every horse was shot, except Gabardine. Only six men survived but George crawled to a safe spot, dragging a wounded colleague. He managed to recall Gabardine and pull the unconscious soldier across the mare's back and ride to safety. George was recommended for the Victoria Cross by General Rundle but, unfortunately, there were no officers alive to confirm this brave action. He was however promoted to the rank of Lieutenant, the Commission being confirmed at Klip Nek, July 1900 and recorded in The London Gazette of 27 September 1901.

He continued to serve with the Middlesex Yeomanry until 1911, and during World War I commanded the 3/3 County of London Yeomanry (1914-16). Later, he was seconded to the Field Artillery serving in France, but was invalided out of the army in 1918 retaining the rank of honorary Major.



Local connections



George had addresses both in London and Tadley.

The family home at the time of his birth was The Grange, Clapham Common and through the years George seems to have kept a London address, certainly there would have been a need for his picture restoration business.

Locally, George is linked to The Wilderness, now Tadley Court. It is not known how or why he came to live in Tadley. Throughout the 1900s Kelly's Directory lists him as living in either The Wilderness or The Cottage, a property in the grounds of The Wilderness, now known as Rollers.

Edgar Grundy of Haughurst Hill, at the age of 74, remembered the Major well: 'I remember when I was a boy I used to go out on the common with my friends to watch him with the horse (Gaberdine). Major Roller used to ride up on his horse, get off and say 'enemy advance'. The horse would lie down. He would then get down behind his horse and pretend to fire a gun from behind its body. If he let that horse loose it would follow him anywhere… just like a dog. I can't remember its name now, but you know that horse was 35 years old when it died.'

In later years, George was a well-known and respected local resident; for many years he was President of the Tadley branch of the Royal British Legion.



Royal Berkshire Hospital



As well as being a governor of several London hospitals he was also an honorary life governor of the Royal Berkshire Hospital from 1928/29 until his death in 1941. This was in appreciation for restoring oil paintings of first Lord Sidmouth, Mr Richard Benyon de Beauvoir and Dr Ring.



The Roller family



George married Mary Margaret Halliday in 1887; they had a son, George Trevor, who died in 1947, and a daughter, Miriam, who died in 1928. Mary died in 1908 and in 1910 George married Emily Kirk Craig. They had no children.


Rollers, George Roller's Tadley residence in his later life

George died on 4 January 1941 and was buried in the graveyard at St Peter's Church, Tadley beside his first wife Mary and their daughter. His second wife, Emily survived him by eight years, dying in 1949.



---




References etc



Burberry's archives, Haymarket, London.Open Spaces; unknown; Burberrys C1934.The Story Of The 34th Company (Middlesex) Imperial Yeomanry; William Corner; T Fisher Unwin 1902.The hard work researching and writing this article was done by the TADS Project Group. Many others have helped, including David Quelch (Burberry archivist). Researching this article has produced a great deal more material than we could include in these three pages. TADS hopes to be able to publish a booket about George Roller's life and times later this year.



---

An indirect way of reaching them would be through:

(

Berkshire Local History Association)




Note:
Special thanks to Michael & Susan Roller, of the UK, friends of the JSS Gallery, for sending along this info.


Sold Christie's; 5/26/93; Lot 70; $79,500

Date estimated by Olson's book. Olson identifies Roller as a "Captain" not a "Major".

I'm a bit confused on the inscription of "The Cashmere Shawl" I don't know where I got that information and I don't see any inscription on the image of the painting.