Mrs. Frederick William Roller
(nee Eva Eyton)
John Singer Sargent -- American painter
1895
Frye Art Museum, Seattle, Washington
Oil on canvas
223.52 x 113.03 cm (88 x 44 1/2 in)
Inscribed ur: John S. Sargent
Jpg: Frye Art Museum
From: Michael & Susan Roller
(r ol lers@ukgateway.net)
Date: Thursday, March 4, 2004
As a quick introduction to the family relationship with Sargent, as we understand it, Mrs F W Roller [nee Eva Eyton]. Frederick William Roller himself [her husband] was a German immigrant to the UK and was naturalised in 1857. He was an import merchant - I think somebody he knew introduced him to Sargent or some such, but will check this out and get back to you. His father (a German) was painted by some none too well known German artist and we still have that picture in the family (not me, sadly!) Mrs FWR was painted by a number of relatively well known artists besides Sargent, including Dicksee and Sir Francis Grant. We are trying to track down those pictures, but without much success.
My wife recently spent a long time tracking down the portrait of Mrs FWR by Sargent - George's son (or his wife) sold it to A British museum in 1949 and from there it found its way to the Frye Art Museum.
Do you know what private collections the
Netty Huxley / George Roller/ Madge Rolland portraits are in?
That's enough for now - more later
Saturday, March 13, 2004

Frederick & Eva's children
There were 6 children total:

George Conrad (1856 – 1941)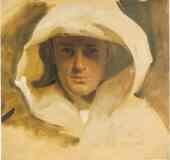 Portrait of Major George Conrad Roller
c 1892

George was an artist himself and had several pictures exhibited in the Royal Academy in London (one of his works is in a museum near London and he did a portrait of his brother William which is still on display in one of London's best known cricket grounds - William was a well known cricketer.

I have a copy of his obituary from the Glasgow Herald in 1941 which describes George as a "lifelong friend of Sargent" and another picture which shows him restoring a Sargent – you would probably know which one! It would not scan or fax, but I can mail you a copy if you send me an address.

He was a Major in the Territorial Army (which is the sort of Reserve Army) up until 1900 when he saw active service in the Boer War (I do not think any of his siblings were in the Army) and won the DCM in the Boer War – he must have been quite old for a soldier then, as it was around the turn of the century. It seems as if he was even involved in some military capacity in the First World War, when he was in his 60s.

The obituary says he was well known as an artist and illustrator in the newspapers and magazines of the 1870s. It goes on to say that " at the age of 80 he undertook the restoration of a number of Old Masters. This was a task of which he had considerable experience some years before, when he was called in to repair pictures slashed by the militant suffragettes".

(Editor's Note -- Sargent's painting of Henry James was slashed by a suffragette during a show at the Royal Academy in 1914. The article in The London Times, May 5, describes the event)

A number of George's sketches are preserved in the Burberry archives. (Burberry the luxury goods department store in London -- then a "gentleman's outfitters", now a luxury goods store & brand).

I think the likeliest reason for Sargent painting his mother would be an introduction via George – they were born the same year and very probably both trying to make their way as artists in London in the 1870s. I also understand that George was a friend of the Harrison family – I see several pictures on the site of people called Harrison, but it is a common name. The ones he was friends with were stockbrokers (discussed at www.hichens.com)

William Eyton (1858 – 1949)

My great grandfather. Famous cricketer (portrait of him by elder brother George hangs in a famous London cricket ground today).

Frederick Albert

Don't know too much about him, but he was a lawyer. I do know his grandson (who is still alive and who I "discovered" by accident as another Roller a couple of years ago. He is the one with the portrait of Georg Jacob.

John Harold

He married Netty Huxley, who was the daughter of T H Huxley (who was pretty famous as a biologist and general polymath, Google will have plenty about him).

He, John Harold, was not ever a soldier. I will write out what I have about him copied verbatim from my aunt's notes, based on conversations with her father (WER's son) in the early 1960s.

"A charming and kind person with a great sense of humour. After Westminster (his school) went to the School of Mines, London and then to California as a mining engineer. Contracted TB (Tuberculosis) and had to give up mining. Took up photography professionally (took the photo of Sargent's portrait of his mother). During the 1914/18 war took "before and after" photos for a dental surgeon who repaired the smashed jaws of soldiers wounded in battle. Spent many winters in Switzerland. Netty and he had one daughter, Madge (this is Marion) who studied singing in Switzerland during the 1914/18 War.

There she contracted liaison with (wonderful euphemism for "had an affair with"!) Gigli (I believe a famous opera singer at the time) who refused to marry her.

Madge thereafter took the surname Rolland ( I presume this was to fool people into thinking she had been married, to explain away the child with Gigli). Madge's child, who was called Barbara married a Czech eye surgeon."


(

Fri, 15 Oct 2004

: I had an interesting e-mail a while ago from someone called Tony Hirtenstein, who is Netty Huxley's great grandson!)

Charles Trevor

Not much known about him. Married, had two daughters and died young.

Beatrice Eva

Not much known about her – married her first cousin, apparently to the family's great disgust!

The Rollers History

The furthest back we go for the Roller name in terms of information is to Johann David Roller, a cloth manufacturer living in Germany in the mid eighteenth century.

Johann David had a son, Georg Jacob who was born in 1774. He was a teacher of what we would call today special needs children and played a part in inventing "deaf and dumb" language. [One of the few surviving Rollers from this branch – there are around 12 in total with the surname Roller – has a portrait of him hanging in his house]

Georg Jacob and his wife had 10 children, only four of whom survived into adulthood. Frederick William was the only son of these four. He was born in 1817 and emigrated to England in 1842 and married Eva Eyton in 1853.

Eva's family -- established Welsh family

The Eyton family has a lot of history – we have a copy of a family tree that goes back to 924 – nearly 1,100 years! I have to say that it is unlikely to be totally historically accurate. Many families in England possess such documents. What is clear is that the Eytons are a well known Welsh family and for Frederick Roller to have got Eva's father's permission to marry her in 1853 (when he was not naturalised as a British citizen) is a sign that he must have been doing well in his business.

What was his business? He was a partner in a firm of import merchants, and I have a reference that suggests they were importing the bark of the Chinchona tree from South America, which was used to make quinine (which I guess would have gone into tonic water).

In 1857 he became naturalised, and I have a copy of his certificate of naturalisation. This says that he sought to become naturalised in order to purchase the freehold of a house at Clapham Common (a suburb of London). This house would have been "The Grange" where they lived for a long time. Their eldest child, George would have been a year old at that time, and this is possibly another reason he decided to become naturalised.

The Rollers and C19 painters

I understand Frederick & Eva knew Millais (1829-96) as well as Sargent. Eva's will (she died in 1896) shows she was interested in art and proud of her portraits by various artists:

• William Eyton Roller was left a portrait of her by Sir Francis Grant (1803 – 78) (we have an image of this)

• Frederick Albert Roller was left a portrait of her by Dicksee (1819-95) and a portrait of himself by Joy

• Charles Trevor Roller was left a portrait of himself and his sister (Beatrice) by Dicksee

It seems to me that Frederick & Eva must have got to know a number of reasonably prominent artists of the generation before Sargent's (eg Millais, Grant, Dicksee) and perhaps one of that generation introduced them to Sargent? Another theory would have to be that their eldest son George (see above) arranged for Sargent to paint his mother? I think the portrait was dated 1894, which is only 2 years before Eva's death.



Notes:
Special thanks to Michael & Susan Roller, of the UK, friends of the JSS Gallery, for sending me their family history.