Rose-Marie Ormond
(later Madame Robert André-Michel 1893-1918)
John Singer Sargent -- American painter
Date?
Private collection
Oil on canvas?
Size?
Jpg: Friend of the JSS Gallery
Rose-Marie was the niece to John Singer Sargent, daughter to Violet Sargent Ormond. The caption here reads:

Rose-Marie Ormond
Widow of Robert André-Michel
killed at Saint-Gervais, on Good Friday, 1918
by German bombardment

Robert André-Michel

(Husband to Rose-Marie)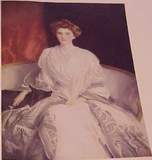 Rose-Marie Title Unknown
1913 ?

From: Ross Caldwell
<bel mu rru@hotmail.com>
Date: Wed, 13 Nov 2002

I was researching the internet on November 11 for information about Robert André-Michel, and your site came up connected to his widow, Rose-Marie. It was very moving to read about Sargent's affection for her [on the thumbnail page 1918], especially as it was Armistice Day (I am a Canadian living in France).

André-Michel's study on the frescoes in the Papal Palace at Avignon, posthumously published in 1920, contains excerpts from his letters from the front (he was there for less than a month before being killed), addressed to Rose-Marie. As a tribute to him, the book also contains a dedication to Rose-Marie, with a black and white rendering of a painting of her by Sargent.

The book is titled "Avignon: Les Fresques du Palais des Papes" published 1920 by Armand Colin. Introduction by M. André Hallays.

Thank you for your lovely work and sensitive words.

Sincerely
Ross Caldwell
Ross & Aline's Fantastic French Adventure!

From: Natasha

I imagine the painting is still held privately in the Ormond family. It is curious though that I can't find it listed in either the "Works in oil" nor the "Smithsonian Catalogue of Work" – at least under that title.

I am also assuming that the painting was done (since it's titled in her maiden name -- though maybe that doesn't mean anything) around, if not just before the time of her wedding which would place it in 1913. She was born in 1893. That would make her about 21 years old -- which might be correct -- it's difficult to say since she has such a timeless beauty.

Editor's Note -- Natasha then asked Ross about the contents of the letters, salivating at what they might reveal.


From: Ross Caldwell
<bel mur ru@hotmail.com>
Date: Wed, 14 Nov 2002

Rose-Marie does indeed have a timeless beauty - I have spent a long time looking into her eyes, to see if I could tell whether the painting was done before or after Robert was killed. Sargent's abilities seem that good! But I really don't know - the introduction to the book doesn't mention it.

About the letters - they are just excerpts, and quoted primarily to show the nobility and courage of these two tragic figures. There isn't much detail, although I would love to give you what there is. Unfortunately, I borrowed the book on inter-library loan and have since returned it. The binding was so bad that I even felt terrible for scanning the pictures - I was afraid that the cover would just crumble and split if I flattened it to the scanner bed any more :( However, I have seen copies on sale on the internet for around $40, which is a very reasonable price. I'm suspect that if it were known that it contains an otherwise unpublished Sargent the price might be higher.

I believe you are right, that Rose-Marie's effects must have gone to her family. Still in shock from the War, the introduction is barely concealed rage against the Germans. One gets a tremendous feeling for the tragedy of the lost nobility of these two, and by extension so many of their generation. Rose-Marie and Robert were a kind of scholarly "team", and apparently much of the manuscript notes for the book were in her hand. They did a good deal of research in Rome, at the Vatican library. There is a plaque at the Palais in Avignon dedicated to Robert. The couple had chosen the motto "Au dessus de la vie, l'honneur; au-dessus du bonheur, le sacrifice" (Above Life, Honour; above Happiness, Sacrifice"). The introduction was written to show how they lived the truth of this sentiment.

I found the reference to the book circuitously (sorry, not related to Ormond or André-Michel that I know! (although we had a painter, Bannister, early in the century). Essentially my interest was in the papacy of this period - I have yet to go to Avignon, but now it will be that much the sweeter.

Sincerely
Ross Caldwell


Notes:
Special thanks to Ross Caldwell, a Canadian living in France and friend of the JSS Gallery, for sending me this image and info.