Sketchbook (Carnation/ Lily) Robert Louis Stevenson
John Singer Sargent -- American painter
1880-1885
Sargent at Harvard
Mostly graphite and charcoal, and some pen and brown ink, on off-white wove paper, bound in a beige canvas sketchbook
25.5 x 35 cm (actual)
Jpg: Sargent at Harvard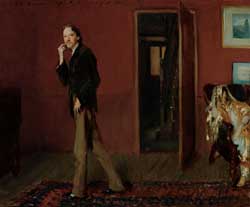 Robert Louis Stevenson and His Wife
1885
Notes:
Sketchbook measures 255 x 350 mm., individual sheets are approx. 247 x 345 mm.
The pages are numbered in brown ink in the top right hand corner. Page eight is missing/ has been removed from the sketchbook. The condition of the sketchbook is fragile, and many of the pages are loose. In an unpublished Harvard course paper, Anne van Dijkum suggested that page nine of this sketchbook and page five in Fogg sketchbook, 1937.7.24, originated from the same book due to their matching dimensions and similar subject matter.
Page 1 (recto) is a graphite study for the portrait of "Mrs. Moore," 1884, now in the collection of Hirshhorn Museum. The sketchbook contains studies of "Madame Gautreau," see pages 3 (verso), 4 (recto and verso), and a charcoal study of Robert Louis Stevenson, page 7 (recto), which relates to the oil, "Robert Louis Stevenson and His Wife," 1885, Collection of Mr. and Mrs. John Hay Whitney.
Page 3 (recto) is a graphite sketch of dancers for "El Jaleo," and on page 9 (verso) is "Studies of a Spanish Dancer, Bearded Man with Pipe," 1880-81. This sheet measures 247 x 340 mm. Page 17 (recto) is a study for the background figure in "The Spanish Dance."
The sketchbook also contains studies for "Carnation, Lily, Lily, Rose," see pages 5 (recto), 6 (recto and verso), 10 (verso), 11 (recto and verso), 12 (recto and verso), 13 (recto), and 14 (verso), c. 1885.

Provenance:
Mrs. Francis Ormond, Owner, London
Disposed of: 1937, Gift to Fogg Art Museum

Bibliography:
McKibbin, David, Sargent's Boston, Museum of Fine Arts, Boston, MA, 1956, p. 124, Check List of Sargent's Portraits
Ratcliff, Carter, John Singer Sargent, Abbeville Press, NY, 1982, p. 102, fig. 143
Adelson, Warren, Stanley Olson and Richard Ormond, Sargent at Broadway: The Impressionist Years, Universe/ Coe Kerr Gallery, 1986, pp. 66-69, figs. 38, 39, 48, 49
Volk, Mary Crawford, John Singer Sargent's El Jaleo, National Gallery of Art, Washington, 1992, p. 163-64, cat. no. 23
Adelson, Warren and Elizabeth Oustinoff, Sargent's Spanish Dancer: A Discovery, Antiques Magazine, Mar 1992, CXLI no. 3, p. 465, fig. 9
Exhibition History:
John Singer Sargent's El Jaleo, National Gallery of Art, 09/10/92-11/22/92, Washington, DC, Folio 9 verso exhibited.