The Piazzetta, Venice
John Singer Sargent -- American painter
c.1904
Tate Gallery, London
Watercolor on paper
34·5 × 53·5 cm (13 1/2 × 21 1/8 in.)
Presented by Lord Duveen 1919
N03405
Jpg: Tate Gallery
The view in the painting is facing the front of the old Library (designed by Jacopo Sansovino in 1536) the Pizzetta to the right and beyond which leads to St. Mark's Square from the lagoon where Sargent


paints this. You can somewhat see the winged lion of St. Mark in the background (thumbnail left). The freestanding column supporting St Theodor and his crocodile is at the far right of the painting (thumbnail right).
At first I thought we were looking towards St. Mark's square (looking north), but now I believe we are looking east across the front of the Libreria. The lagoon is to our right and the Piazzetta would therefore be beyond the Libreria and heading back left towards San Marco.

From: The Tate Gallery
The artist showed two watercolours of the Piazzetta at the loan exhibition held by Carfax & Co., April 1905: No.31 lent by the artist, and No.37 lent by p. Wilson Steer. Charteris (1927, p.287) lists an oil 'Piazzetta, Venice', 21 1/2×27 in., under the year 1905.
(Tate Gallery)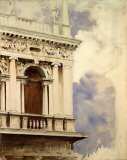 The Library in Venice

In the watercolor at the National Gallery of Art, Washington, DC, you can see Sargent's interest in a single opening on the second level corner. It's almost a perfect study of Jacopo Sansovino's (1486-1570) use of Ionic order of columns and highlights the interest that Sargent had in architecture.


Notes: