Renwick Gallery, Washington DC

Photo

Washington D.C

19 Oct 2003

Jpg: Andy Holzopfel


The Renwick Gallery, located right across from the Whitehouse, is today part of the Smithsonian Institution, and houses a permanent collection of contemporary American crafts, features one-of-a-kind pieces created from clay, fiber, glass, metal, and wood, and presents temporary exhibitions of decorative arts and crafts from all periods.

It was the original home of the Corcoran Gallery which started in 1859 to display the private collection of William Wilson Corcoran's art. By the 1870ís the collection had out grown the physical limitations of the building and Corcoran had a new museum built where it stands today.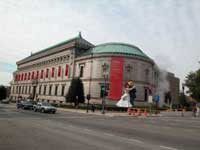 Corcoran Gallery of Art
In its absence, the building housed The U.S. Court of Claims but by the 1950ís it too had outgrown the building. In a typical American attitude the U.S. Court proposed to raze the building for some new ugly edifice. Only through the intervention of the First Lady, Jacqueline Kennedy, was the thing saved from the wrecking ball.
In 1965, S. Dillon Ripley, then secretary of the Smithsonian, met with President Lyndon Johnson to request that the gallery be turned over to the Smithsonian. The Renwick was subsequently dedicated "for use as a gallery of art, crafts, and design." It was renamed the Renwick Gallery in honor of its architect, James Renwick Jr.
The Smithsonian American Art Museum's Renwick collects, exhibits, studies, and preserves American crafts from the nineteenth to twenty-first centuries. It also holds temporary exhibitions of American crafts and decorative arts on the Renwick's first floor.
(museumstuff.com)
As of October of 2003 the Renwick Gallery, was the temporary home for some of the works from the National Gallery of Fine Art, while it is being rebuilt.
Notes:
Special thanks to Andy Holzopfel, of Baltimore, for taking this picture on his visit to Washington DC and being a friend of the JSS Gallery. See some of Andy Holzopfel's paintings.