Salon of 1880

Fumée d'Ambre Gris,1880

and Madame Edouard Pailleron

1879

Salon of 1882
Lady with the Rose
1882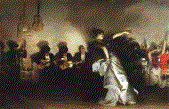 El Jaleo
1882



Diego Velazquez
(1599-1660)
Spanish Painter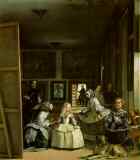 Las Meninas
1651



James McNeill Whistler
(1834-1903)
American Painter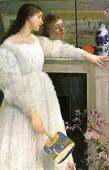 White Girl 2
(Symphony in White, No. 2)
1864



Edouard Manet
(1832-1883)
French Impressionist



Olympia
1863
"A bad poet steals. A good poet barrows and enhances."
-- T.S. Elliot


The following years brought a continual stream of success. Having won the Honorable Mention in '79 he was exempted from jury selection for one year, so in '80 he submits two more daring paintings: the subject painting Fumée d'Ambre Gris, and the portrait of Madame Edouard Pailleron. Both receive a lot of attention. The gamble with Fumée d'Ambre Gris pays off -- Paris loves it.

In 1881 he submits more reserved portraits: Mme. Subercaseaux (1880), Edouard and Marie-Louise Pailleron (1879), and two Venetian watercolors both entitled de Vebuse -- one of the watercolors believed to be Campo dei Frari, Venice . The portrait Mme. Subercaseaux strikes at the heart of the viewers and wins a Second Place medal.

For his friends and himself there was real anticipation now. The only medal left to win for Sargent is First. He had it in him to get those top honors and everyone in Paris knew it. What would he bring next?

In 1882 he comes back with a symbolic portrait of his friend Charlotte Louise Burckhardt -- Lady with the Rose and the bold subject painting El Jaleo. John is becoming a force to be reckoned with -- an artist with distinction.
"Incontestably supreme among foreign artists in this Salon is M. John Sargent, the American; his picture of the gipsy dance, El Jaleo, seems to have turned the head of all Paris." [1]


In 1883 he has taken Velazquez's Las Meninas and given us Daughters of Edward Darley Boit. Sargent is pushing hard, trying to reach that top honor at the Salon and to do it on his terms. The Boit Daughters is powerful but doesn't make it.



It was that same year (1883) he started on what he considered to be his best work -- the portrait of Mme. Gautreau, but he was struggling artistically with its central idea. Quite possibly he had plans of showing it in '83 but the sittings were not going well and Sargent knew the portrait had to be something special. It had to contain not only a wonderful likeness but something telling of the core if his subject.

In April of that year Edouard Manet died. Manet had been the father of modern art and the year had also been the 20th anniversary of Manet's most famous painting Olympia.

As he had done with Whistler, Sargent now found his central premiss. He would take Manet's most controversial painting and adapt it for his own -- like he had done with Whistler's Nocturne in Black and The White Girl 1.

In each of those cases, Sargent had taken a controversial painting and had interpreted his own way. Spanish Dance was never exhibited, though Fumée d'Ambre Gris had received glowing critical notice and was so perfectly adapted that it's hard to see the connection, but there is little doubt a study in white was his intent. In July of 1880 when he wrote to a friend about the painting he said: the "little picture I perpetrated in Tangier....the only interest in the thing was the color."
(Clark Art Institute, Williamstown, Mass.)

The beauty in this is that John hadn't just copied Whistler. In the case of Fumée d'Ambre Gris, Paris loved the painting and since no one noticed the connection, there was no reason for John to explain himself. In fact, a clever artist might not want to reveal the secrete to his genius.

You might even say he pulled off a coup díetat. He had taken Whistlers painting the French (no less) had hated in 1863 (though some critics liked it), and turned it into a very successful painting which the French loved seventeen years later -- and the public didnít know.

Now he needed something that would push him over the top, and the delicious combination of Gautreau's beauty and Olympia's power would get him to that First Place at the Salon. It seemed perfect. John would take the controversial idea, retaining the emotional impact and package it in a beautiful and digestible form. Certainly the clothed Gautreau would yield that result, and certainly the 20 years that passed since Manet's Olympia had soften the public. He could do it again--

Shhhhh, keep it quiet, they won't even know . . .




Salon of 1881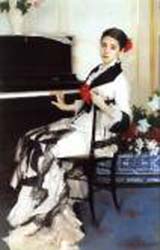 Madame Ramon Subercaseaux
1880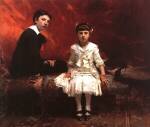 Edouard and
Marie-Louise Pailleron
1881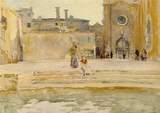 Campo dei Frari, Venice

1880


Salon of 1883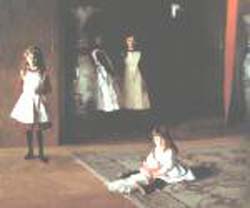 Daughters of Edward
Darley Boit, 1882


Salon of 1884


Madame X
1884