George McCulloch
John Singer Sargent -- American painter
1901
Boston Athenæum
Oil on canvas
27.5 x 21.5 in.
Gift of Peggy McCulloch Jacobsen,
1996.
Jpg: Boston Athenæum of Fine Arts
George McCulloch (1848-1907) made his fortune in silver mining in Australia before coming to London to live as a gentleman of leisure and art collector. He was friends with many of the Royal Academy and had, by the time of his death, amassed an amazing collection of contemporary work numbering more than 400 with more than half of those considered to be of significant note. The connection with Sargent was probably through any number of mutual friends.
George was a Scotsman by birth and educated at Andersonian University in Glasgow. As a young man he traveled to South America where he got experience in farming, then went to Austrialia arriving in Melbourne in 1871. Around '75 he took over management of the Mount Gipps sheep station, a 1,400 square mile tract of land in what is now in and around Broken Hill, New South Wales -- the connection there was one of his uncles who was part owner.
By 1883 valuable ore was discovered by Charles Rasp. George was quick to peg a claim of his own and then he quickly formed a syndicate to take out more claims. In a short time, his hard life of sheep farming changed to heading a wealthy mining company.
After marrying a window of one of his former employees ('83) he returned to Scotland and then to London where he represented the mining company and also served as chairman of the Mount Lyell Mining and Railroad Company's London board.
(The Siver City Mining History)


Manks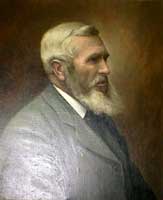 Portrait of George McCulloch
c. 1890's
John Singer Sargent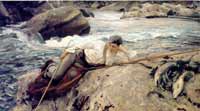 On His Holidays
(Alexander McCulloch son of George)


Notes:
Special thanks to Laurie McCallum, of New Zealand, a friend of the JSS Gallery, for sending me a lot of information on his George McCulloch.

See McCulloch in Sargent Catalogue of Work