Dame Ethel Smyth

John Singer Sargent -- American painter

1901

National Portrait Gallery, London

Black chalk on paperl

59.7 x 46 cm (23 1/2 x 18 1/8 in.)

Jpg: local


From: Women's Voices
Dame Ethel Mary Smyth (1858-1944) overcame the constraints of her middle-class English background by open rebellion. Taught piano and theory as ladylike accomplishments, she became so concentrated in her studies that her family deemed them unsuitably intense, and stopped her lessons. The teenaged Ethel went on a protracted and progressively more severe strike, finally confining herself to her room and refusing to attend meals, church, or social functions unless her father would send her to Leipzig to study composition.

After two years the embattled Mr. Smyth gave in, and Ethel went to Leipzig, where her larger-than-life personality found an aesthetic outlet in the development of a Brahmsian idiom. She gained some recognition in England with the performance of her Mass in D for chorus and orchestra in 1893, and struggled to get her operas performed.

A woman of boisterous vitality who fell prey to inconvenient passions for persons of both sexes, Smyth was affectionately caricatured in E.F. Benson"s Dodo novels and mocked by Virginia Woolf. In 1910, Smyth met Emmaline Pankhurst, the founder of the British women's suffrage movement and head of the militant and extremely well organized Women's Social and Political Union. Struck by Mrs. Pankhurst's mesmerizing public speeches, Smyth pledged to give up music for two years and devote herself to the cause of votes for women.
(Women's Voices)

Ethel Smyth had a sister Mary whom had married Charles Hunter. Sargent painted her sister previously in 1898 (Mrs. Charles Hunter).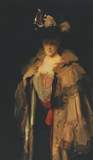 Mrs. Charles Hunter
1898
(Dame Ethel Smyth's sister)

Notes:


Exhibitions
1916, Royal Society of Portrait Painters, hosted at the Grafton Galleries, London. Opened June, 1916.

"A series of letters from Ethel Smyth to Violet Paget ("Vernon Lee") is at Colby College, in Waterville, Maine. There ought to be Smyth material in the Houghton Library at Harvard and the Humanities Research Center, University of Texas, since these hold extensive papers of her friend Maurice Baring.
Smyth's sister Mary (Mrs Charles Hunter) was -- until her husband's money ran out--a patron of the arts and a friend of, among others, Sargent and Henry James. She represents another potential line for further investigation."
(From: Mark Samuels Lasner posting on the net
bi bl io@aol.com )