Mrs. Charles Hunter

(nee Mary Smyth)

John Singer Sargent -- American painter

1898

Tate Gallery, London

Oil on canvas

148 x 89.5 cm (57 x 34 1/2 in.)

Presented by Mrs Charles Hunter through the National Art

Collections Fund `in memory of a great artist and a great friend' 1929

Jpg: Tate Gallery


Mary Smyth married Charles Hunter in 1875 along with his huge fortune in mining interests. She had an eccentric sister, Ethel Smyth (whom John would draw in 1901). The two women were quite the pair. Mary was not to be outdone by her sister -- or at least she tried. It was her 'sacred duty,' her sister would reflect in her 1940 memoir "What Happened Next", 'to spend every penny of [her husband's] money."

She apparently succeeded before she died and had to sell her substantial collection of art in (1920) with a lot of it, through Sargent's help, going to Isabella Stewart Gardner for her museum where it is today.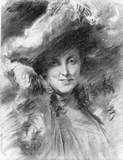 Mrs. Charles Hunter (mug)
c. 1902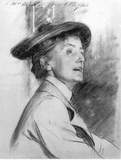 Dame Ethel Smyth
1901
(Mrs. Charles Hunter's sister)
Notes: