John Singer Sargent's The Rialto, Venice (Frontpage) (What's New) (Thumbnails Index) (More on Venice)


The Rialto, Venice
John Singer Sargent -- American painter
1911
Philadelphia Museum of Art, Pennsylvania
Oil on canvas
55.9 x 92.1 cm (22 x 36 1/4 in)
The John W. Elkins Collection, 1924
Jpg: Athenaeum

Rialto Bridge
Notes:
Exhibitions
Gondola Days: Isabella Stewart Gardner and the Palazzo Barbaro Circle, 2004
Sargent and Italy, 2002-2003
Froum
From: Jason
Ic er 0@aol.com
Date: Mon, 18 Oct 2004
The Rialto, Venice spoke to me as both a great spatial painting with the different levels of gondolas and perspective entwined as well as the fundamentals behind it. It automatically draws your eye towards the man in the white suit standng on one of the gondolas with the light arching in towards his location. It involves perspective as I mentioned earlier, as well as a clear sense of light and darkness almost presenting an axis in a way, how darkness divides the two sections of light. I think this would be one to add to his site if at all possible for it's true artistic value.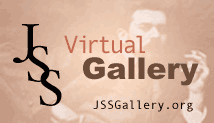 By: Natasha Wallace
Copyright 1998-2005 all rights reserved
Created 11/20/2000