Unknown Dancer (Untitled)
John Singer Sargent -- American painter
1879-1882 ??
Oil on canvas ?
measures: ?
image: private collection
Recently I received a letter (1999):
My uncle has just passed away. He was an art collector. I found a painting that is a John Singer Sargent. It was purchased from the Detroit Institute of Arts in the early 70's. It is being cleaned at this time. I wanted to know if you might have an idea to the name of this portrait . . .

Lori P.
(last name withheld for privacy)
Thank you for the picture you sent. Your uncle had excellent taste and you are very fortunate to have inherited such a wonderful work. I would most strongly encourage you to have this painting professionally photographed and would hope that you might send me a copy when you are done.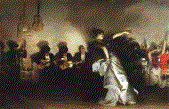 My first thoughts are that this picture is one of Sargent's earlier works, probably between 1879 and 1882 and is probably done on one of his Spanish trips or trips to Italy and might be in the vain of his painting "El Jaleo" (1882) He did a number of studies of Spanish dancers in this period. The woman in the picture appears to be holding a tambourine. Because of the quality of the Jpeg I can't tell. Can you confirm that for me?
Because of this, I thought she might be a Spanish dancer. Look at the two far-right women in El Jaleo. Or she might be an Italian tarantella dancer as was depicted in Sargent's painting of "Capri" (thumbnail). But what bothered me about that thought is that this is not a simple study but a finely crafted portraiture -- so who is she?
The deep tones, the dark shading, falls clearly in line with his earlier work and what he learned from Carolus-Duran -- even the pose is somewhat similar to his Carolus-Duran portrait. From your last name I assume your uncle was Italian. Because of this it might lead more towards the thought that the woman in the picture is also Italian and maybe more in line with some of the early portraits such as Gigia Viani (1880), A Lady (1880), Head of an Italian Woman (1880) -- though these are head portraits. She might be . She
As you can tell I'm still rather stumped. Although I feel fairly certain that it must have been painted somewhere between 1879 and 1882.
So she's probably Italian, possibly Spanish. What she holds in her hand is telling in that she's probably a professional performer/dancer/artist. The painting looks familiar but I get thrown easily after looking at so many images and I can't be sure if I've seen it in books or not.
Your best hope in identifying it is to return to the Detroit Institute of Arts and inquire. I'm sure they have a record of all the art they purchased (from whom they bought it, or was gifted by, and when), hopefully they would also have a record of all artwork they sold -- I would certainly think so.
In any event, good luck. I would love to hear more from you. What is it's size? Can you see a signature? He quite often inscribed it with more than just his name, sometimes even identifying the sitter.
Natasha